AV Over IP - Simplified
Introducing EvertzAV's all new AV over IP distribution and control solution: NUCLEUS. NUCLEUS is an AV routing platform developed exclusively for customers looking for a simplified, all-in-one Video over IP, distribution, presentation, collaboration, and control system.
NUCLEUS Delivers
Enterprise class AV distribution
By utilizing the experience and strength cultivated through the many years of being a global leader in broadcast audio and video infrastructure equipment, Evertz Microsystems has developed an extremely powerful, yet simplified and all around easy–to–use Video over IP platform for enterprises of all sizes.
No fuss simple setup, no programming required
NUCLEUS operates on a simplified configuration framework allowing administrators the ability to set up a fully functional AV distribution network in minutes without the hassles associated with most AV distribution platforms available on the market today.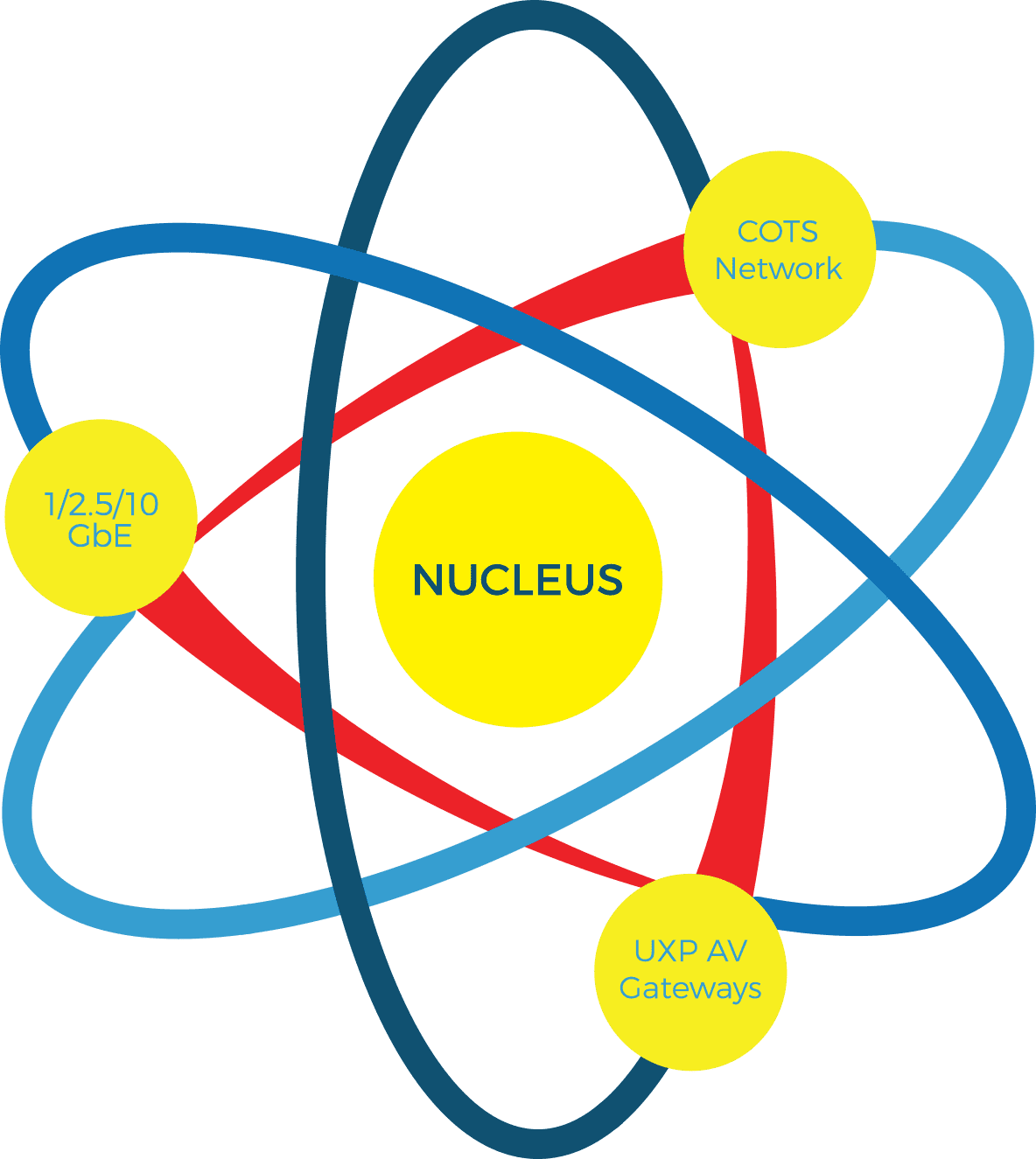 Proven, reliable, future-proof hardware
The NUCLEUS platform comprises of the NUCLEUS Session Manager and UXP AV Gateways (standalone and modular available). Any combination of modular and standalone UXP AV Gateways can be interconnected using a COTS switch and then configured, controlled, and managed using the NUCLEUS Session Manager.
Unparalleled versatility and scalability
The NUCLEUS platform can be integrated into your enterprise using your existing standard 1GbE IT infrastructure/IP network. NUCLEUS also supports 2.5GbE and 10GbE networks, providing the highest resolutions possible with unbeatable image quality at the lowest latencies. All this equates to a great investment now and also in the future as you won't have to worry about replacing your infrastructure and hardware.
Use NUCLEUS to build video display walls using standard UXP gateways. Plus, take advantage of built-in advanced features like PIP (Picture-In-Picture) from the UXP-TRXS-USB2 gateways.
* Click on products for more information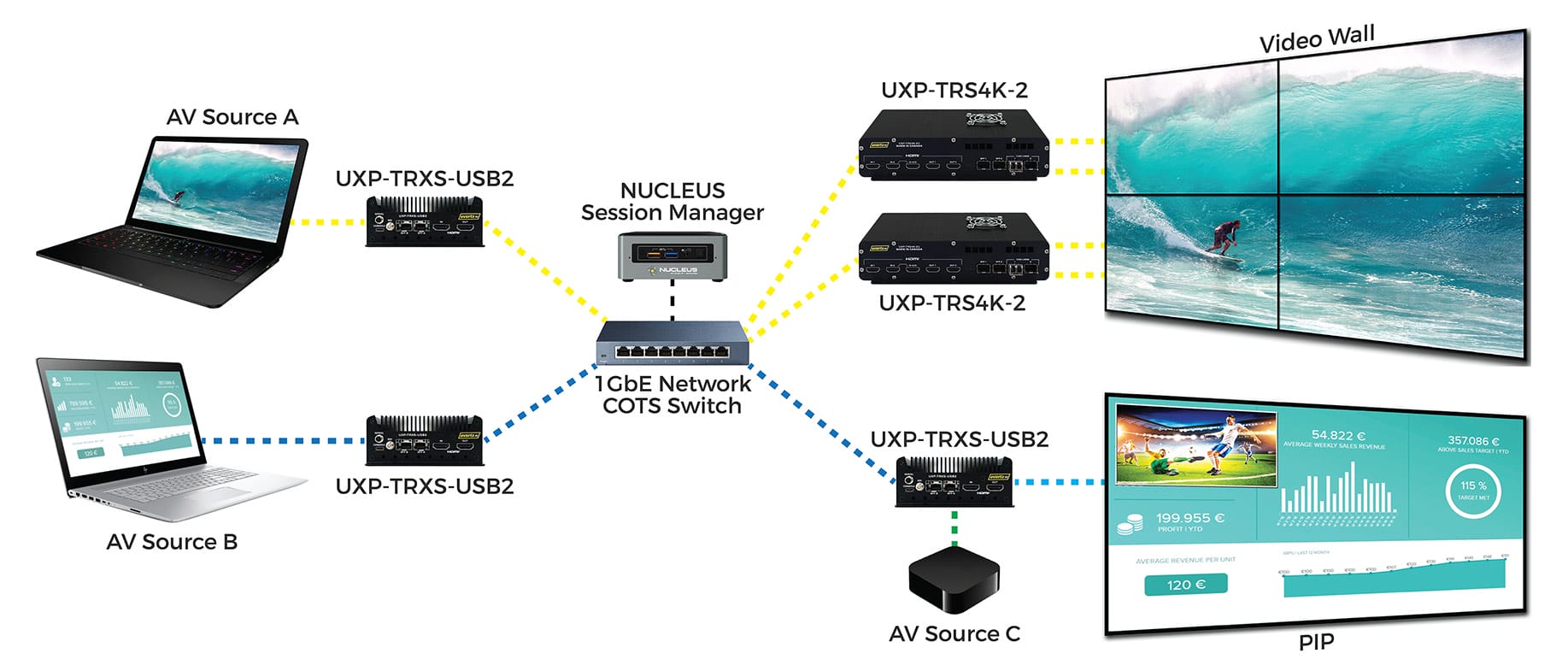 Universal Applications
EvertzAV's NUCLEUS platform was developed to eliminate the stress and frustration often associated with deploying AV over IP solutions. With its ultra-low latency video capabilities, high bitrate audio support, and USB control functionality, NUCLEUS is the ideal platform for your Video over IP and KVM over IP needs.
In addition to being the ideal enterprise AV video switcher, NUCLEUS is at its foundation, an extremely flexible and versatile AV extender solution using IP for transport. This means NUCLEUS can be used in a multitude of spaces and for many different applications, including:

The NUCLEUS Platform is made up of the following components:

NUCLEUS Session Manager
At the core of the NUCLEUS platform is the NUCLEUS Session Manager. The NUCLEUS Session Manager is a full featured linux-based centralized management server used for the configuration, control, and orchestration of the UXP AV Gateways.

UXP AV Gateways
Revolving around the NUCLEUS Session Manager are the UXP AV Gateways. The UXP AV Gateways encapsulate and transport video, audio, USB, and control data. The UXP AV Gateways can be integrated into your enterprise's rooms and spaces using your IP network.
NUCLEUS Session Managers
UXP AV Gateways
NUCLEUS SFPs
Rack Frames