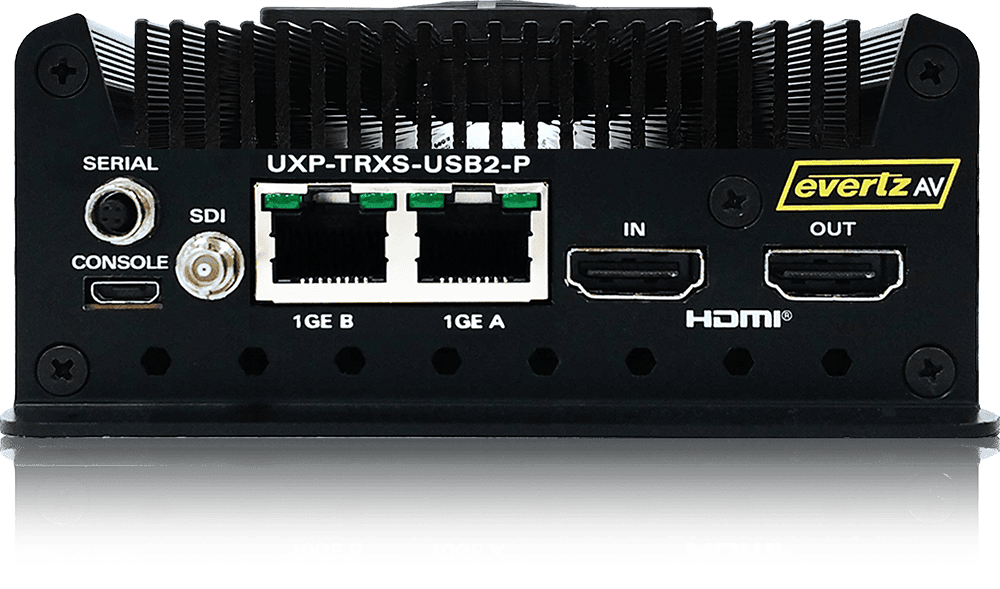 UXP-TRXS-USB2
Standalone AV Gateway w/ USB 2.0
Key Features
One HDMI input and one HDMI output (HDMI type A)
SDI input/output, analog audio input and output, two USB 2.0 ports, two USB HID ports, and one serial port
Resolution up to 3840x2160p @ 30 Hz
Standalone device with integrated fan (fanless variant - UXP-TRXSQ-USB2 - available)
802.3at Type 2 PoE+ support for UXP-TRXS-USB2-P
Auto-discovery and simplified provisioning features
Dual receive mode allowing for PIP functionality
Ultra low latency transport over 1GbE links
Third-party control support
Download the UXP-TRXS-USB2 datasheet Download the UXP-TRXSQ-USB2 datasheet Standalone AV Gateway
The UXP-TRXS-USB2 standalone AV gateway is a device that can either be used as a receiver, a transmitter, or both at the same time. Due to the bi-directional nature of the links the UXP-TRXS-USB2 can be used to both send and receive video (with the video source/sink being either HDMI or SDI), audio, serial, USB HID, and USB 2.0 data. Reduce decision making at design time by simply adding up the number of devices that need to either send or receive as the UXP-TRXS-USB2 can be used for any connection point.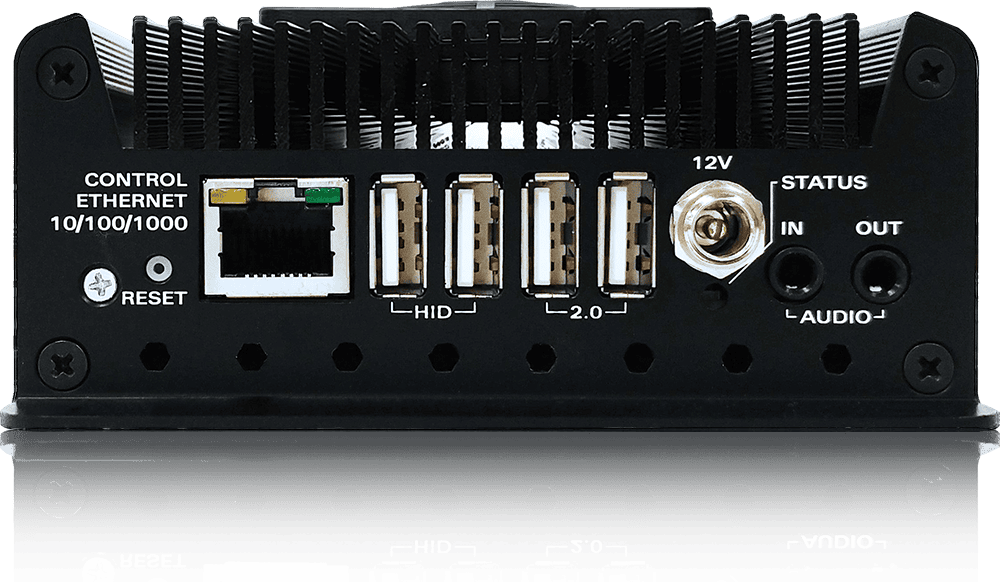 Live AV Over IP Transport
Using up to 10G Ethernet (or 1GE/2.5GE for the UXP-TRXS-USB2-P model), the UXP-TRXS-USB2 both encapsulates and de-encapsulates video, audio, USB HID, and USB 2.0 data simultaneously. The UXP-TRXS-USB2 has two HDMI ports (one receive and one transmit, supporting resolutions of up to 3840x2160p @ 30Hz) and transports them with ultra low latency over its transport links. The UXP-TRXS-USB2 supports both embedded audio on HDMI as well as a discrete audio input. Additionally, a USB connection is provided to supply HID device connectivity over your network and an RS-232/RS-422 port is available for serial communication, transport, and control. If PoE is required for your application, the UXP-TRXS-USB2-P model is available, which supports 802.3at Type 2. Note: If utilizing USB 2.0 on the UXP-TRXS-USB2-P, the use of a UXP-PS-12V5A power supply (see Available Accessories) is required.
Fully Integrated with the NUCLEUS Platform
The UXP-TRXS-USB2 is a managed element of the NUCLEUS platform which is controlled by the NUCLEUS Session Manager - a full featured centralized management server used for the configuration, control, and orchestration of the UXP AV gateways. Any combination of UXP AV gateways can be interconnected using a COTS (Commercial Off The Shelf) network switch and then configured and managed by the NUCLEUS Session Manager.
No Fuss Setup, No Programming Required
The NUCLEUS platform operates on a simplified configuration framework allowing administrators the ability to set up a fully functional AV distribution network in no time at all without the hassles associated with most AV distribution platforms available on the market today. The process has been streamlined so that a UXP AV gateway can be taken out of the box and be put to use in less than five minutes. Whether big or small, deployments of all sizes are handled the same way, using the same consistent process.
Unparalleled Versatility and Scalability
The NUCLEUS platform is exceedingly scalable and can be integrated into your enterprise using your existing standard IT infrastructure/IP network. NUCLEUS supports 1GbE networks and provides the highest resolutions possible with unbeatable image quality at the lowest latencies. As you grow, NUCLEUS grows with you, without limitation. To connect additional rooms, simply add additional UXP AV gateways.
Product Images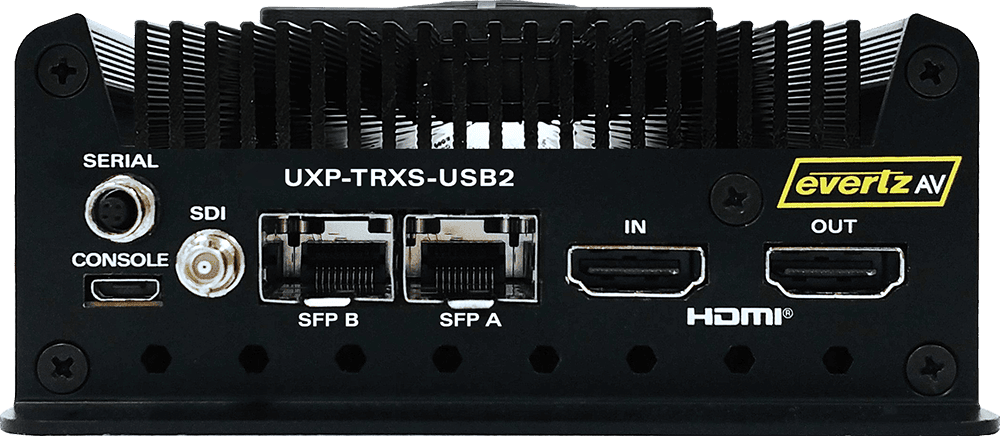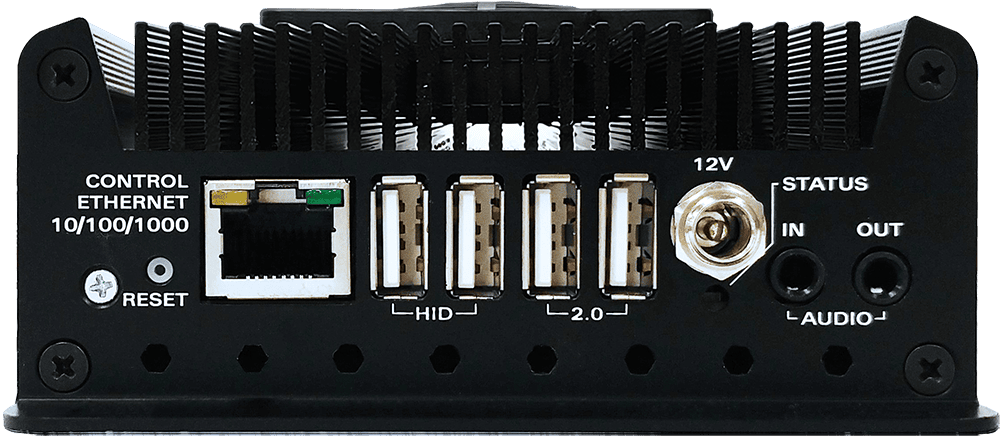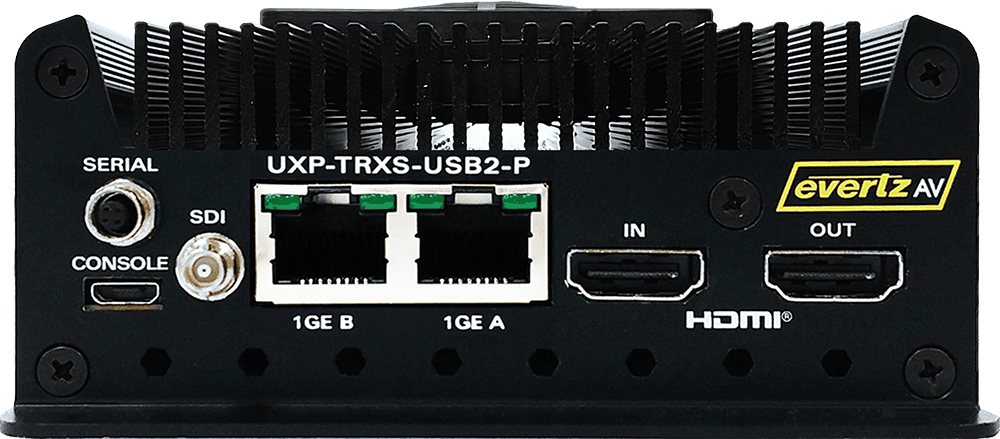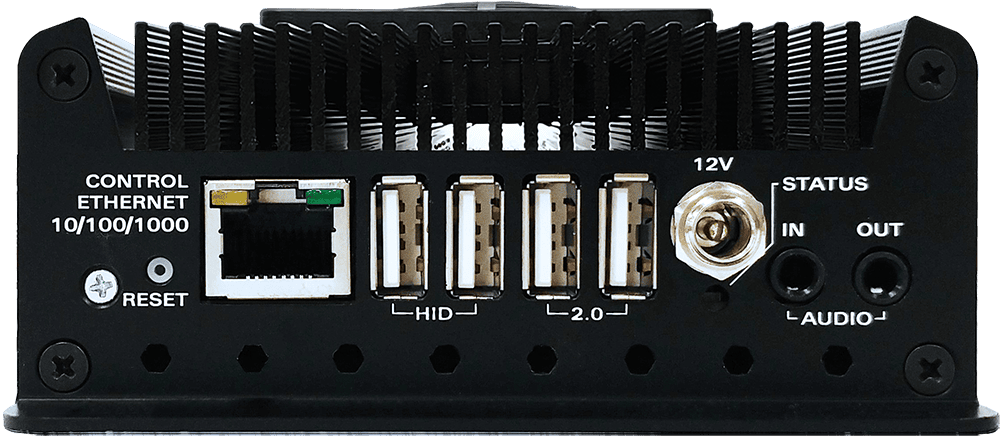 Specifications
UXP-TRXS-USB2 / UXP-TRSXQ-USB2
UXP-TRXS-USB2-P / UXP-TRSXQ-USB2-P
Video Inputs
1 HDMI (type A)
1 SDI (HD-BNC connector – software defined)
1 HDMI (type A)
1 SDI (HD-BNC connector – software defined)
Video Outputs
1 HDMI (type A)
1 SDI (HD-BNC connector – software defined)
1 HDMI (type A)
1 SDI (HD-BNC connector – software defined)
Supported Resolutions
Up to 3840x2160p @ 30 Hz
Up to 3840x2160p @ 30 Hz
Audio Inputs
1 stereo unbalanced analog (3.5mm)
1 stereo unbalanced analog (3.5mm)
Audio Input Impedance
25KΩ
25KΩ
Audio Input Level
Line level
Line level
Audio Outputs
1 stereo unbalanced analog (3.5mm)
1 stereo unbalanced analog (3.5mm)
Audio Output Impedance
4 to 8Ω
4 to 8Ω
Audio Output Level
Line level
Line level
Ethernet Transport
10/100/1000BASE-T RJ45 Ethernet Port (IEEE 802.3)
10/100/1000BASE-T RJ45 Ethernet Port (IEEE 802.3)
Ethernet Connector
RJ45
RJ45
USB
2 HID device ports (type A)
1 HID host port (micro type B)
2 USB 2.0 ports (type A) (can be software defined as host or client)
2 HID device ports (type A)
1 HID host port (micro type B)
2 USB 2.0 ports (type A) (can be software defined as host or client)
Note: The UXP-PS-12V5A power supply (see Available Accessories) is required when using the USB 2.0 ports.
Transport Ports
2 SFP+ (see Available Accessories)
2 2.5GE RJ45 ports
RS-232/RS-422
M5 DIN connector (optional M5 to DB9 converter cable available – see Available Accessories)
M5 DIN connector (optional M5 to DB9 converter cable available – see Available Accessories)
Output Scaling
Yes
Yes
Picture-in-Picture (PiP) Support
Yes
Yes
HDMI Audio
Yes
Yes
In-Band Control
Yes
Yes
Control System
NUCLEUS Session Manager
NUCLEUS Session Manager
Web-Based Configuration
Yes (via NUCLEUS Session Manager)
Yes (via NUCLEUS Session Manager)
Security Compliance
Compliant with applicable DoD Network Devices Security Technical Implementation Guide (STIG)
Compliant with applicable DoD Network Devices Security Technical Implementation Guide (STIG)
DC Input Voltage
12VDC via supplied power adapter
12VDC (via optional power adapter – see Available Accessories)
Power Supply
100-240V / 47-63Hz AC input; 12VDC / 5A output
802.3at Type 2 PoE+ (provides power to device over Cat6a/Cat7 cable)
(Optional power supply available – see Available Accessories)
Power Consumption
25W (USB unmounted)
25W (USB unmounted)
Ambient Operating Temperature
32° to 104° F (0° to 40° C)
32° to 104° F (0° to 40° C)
Relative Humidity
10% to 90% RH (non-condensing)
10% to 90% RH (non-condensing)
Dimensions (H x W x D)
1.75in x 4.13in x 7.43in (44.45mm x 104.90mm x 188mm)
1.75in x 4.13in x 7.43in (44.45mm x 104.90mm x 188mm)
Weight
31.04 oz (880g)
31.89 oz (904g)
Ordering Information
| | |
| --- | --- |
| UXP-TRXS-USB2 | Standalone transceiver up to 10GE with fan: single HDMI input, single HDMI output, HD-BNC connector for SDI input and output, analog audio, USB 2.0, USB HID, and RS-232/RS-422 |
| UXP-TRXS-USB2-P | Standalone 2.5GE transceiver with fan: single HDMI input, single HDMI output, HD-BNC connector for SDI input and output, analog audio, USB 2.0, USB HID, RS-232/RS-422, and 802.3at Type 2 PoE+ support |
| UXP-TRXSQ-USB2 | Fanless standalone transceiver up to 10GE: single HDMI input, single HDMI output, HD-BNC connector for SDI input and output, analog audio, USB 2.0, USB HID, and RS-232/RS-422 |
| UXP-TRXSQ-USB2-P | Fanless standalone 2.5GE transceiver: single HDMI input, single HDMI output, HD-BNC connector for SDI input and output, analog audio, USB 2.0, USB HID, RS-232/RS-422, and 802.3at Type 2 PoE+ support |
Available Accessories
| | |
| --- | --- |
| UXP-SFP2-1G-T | SFP, 1000 BASE-T RJ45, 100m (applicable to UXP-TRXS-USB2 only) |
| UXP-SFP-2G5-T | SFP+, 2.5G BASE-T RJ45, 50m (applicable to UXP-TRXS-USB2 only) |
| UXP-SFP-10G-T | SFP+, 10G BASE-T RJ45, 30m (applicable to UXP-TRXS-USB2 only) |
| UXP-CBL-DB9MDTE-4P-15 | 4 pin to DB9 (male) serial cable, 1.5m length |
| UXP-CBL-DB9-4P-15 | 4 pin to DB9 (female) serial cable, 1.5m length |
| UXP-PS-12V5A | Power supply (100-240V / 47-63Hz AC input; 12VDC / 5A output) |
| AV-FAN-GW | Fan kit for UXP-TRSXQ-USB2 / UXP-TRXSQ-USB2-P (USB powered fan with USB Y-adapter and fan guard) |