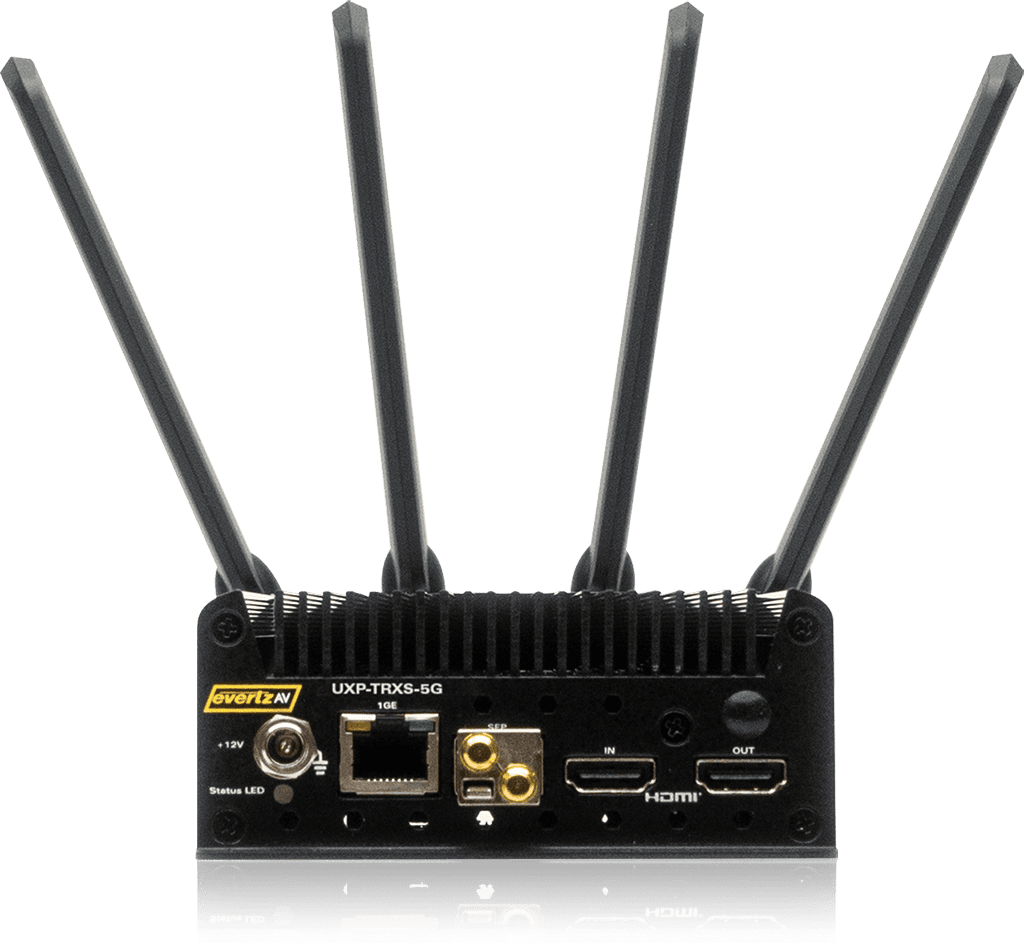 UXP-TRXS-5G
Standalone 5G HEVC/H.264 Encoder / Decoder
Key Features
One HDMI 2.0A input and one HDMI 2.0A output; one 12G SDI input and one 12G SDI output (3G/HD/UHD via SFP+)
Simultaneous single HEVC/H.264 encode and decode up to 4K60, 10-bit, 4:2:2 color sampling (selectable bitrate from 1 -50 Mbps)
Analog audio input/output (via one Mini XLR connector) with AAC compressed audio support
5G module for AV transport over mobile networks (Sub-6GHz and [optional] mmWave support)
Streaming protocol support for SRT and RTMP
Fanless device passively cooled by convection air flow Standalone 5G HEVC/H.264 Encoder / Decoder
The UXP-TRXS-5G is a standalone 5G-enabled HEVC/H.264 encoder / decoder that features one HDMI input and one HDMI output with the option of installing a 12G SDI SFP+ transceiver to allow for the transport of SDI video and embedded audio. The UXP-TRXS-5G can simultaneously encode and decode video signals with a maximum resolution of up to 4K60 (10-bit, 4:2:2). The UXP-TRXS-5G is a compact and fanless standalone device utilizing 5G wireless technology - an ideal gateway for applications such as live streaming, mobile broadcasting, mobile surveillance, and remote operation.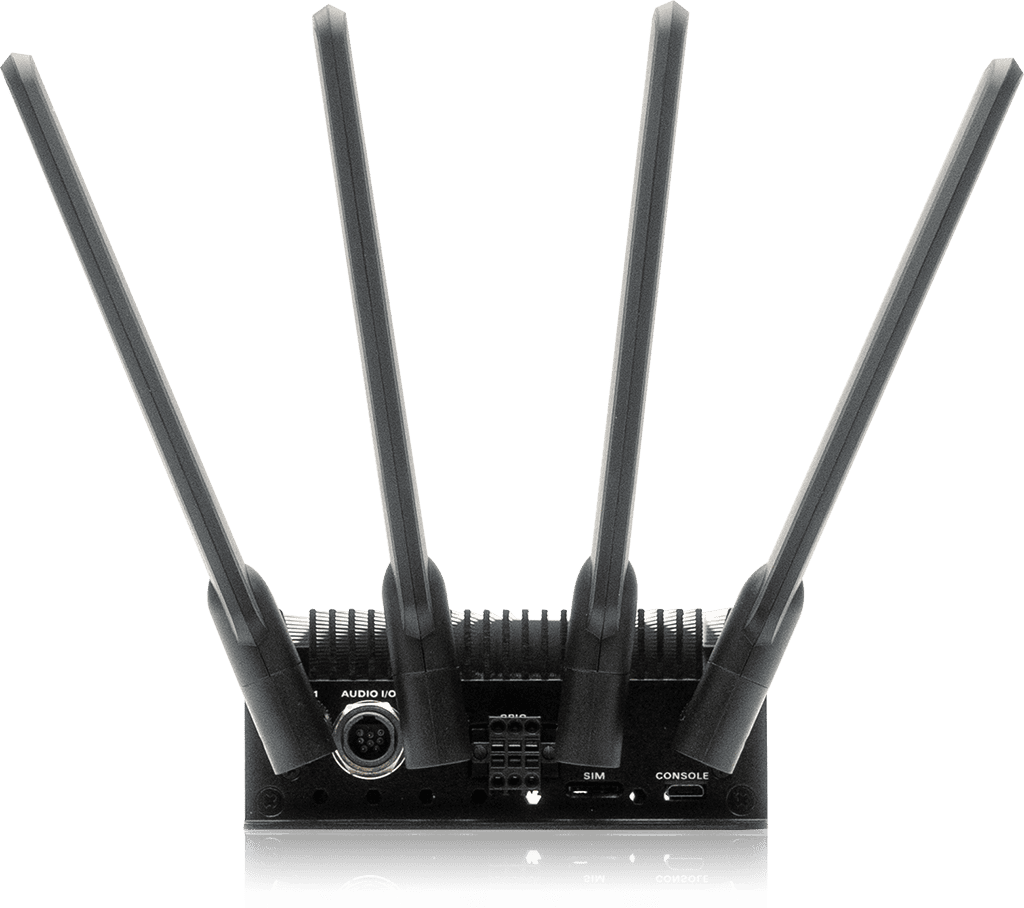 Advanced Media Compression Technology
The UXP-TRXS-5G employs standards-based HEVC (H.265) and H.264 video compression technology and outputs encoded streams that can be decoded using additional UXP-TRXS-5Gs or by other third-party decoders. HEVC and H.264 encoding is supported natively for progressive standards, while HEVC encoding is supported for interlaced standards, and the encoding bitrate is configurable from 1 to 50 Mbps. With regards to the its audio capabilities, the UXP-TRXS-5G supports AAC audio compression for HDMI/SDI embedded audio sources and audio signals coming from its analog audio Mini XLR input.
Versatile Streaming Options
The UXP-TRXS-5G supports the SRT (Secure Reliable Transport) and RTMP (Real-Time Messaging Protocol) streaming protocols. The UXP-TRXS-5G can be used to stream point-to-point over the Internet or over a local network allowing for a multitude of high-quality ultra low latency professional applications. With its powerful encoding / decoding functions, comprehensive streaming features, and wireless 5G capabilities, the UXP-TRXS-5G is truly one of the most versatile gateways in the market today.
Fully Integrated with the NUCLEUS Platform
The UXP-TRXS-5G is a managed element of the NUCLEUS platform which is controlled by the NUCLEUS Session Manager - a full featured centralized management server used for the configuration, control, and orchestration of the UXP AV gateways. Any combination of UXP AV devices can be interconnected using a COTS (Commercial Off The Shelf) network switch and then configured and managed by the NUCLEUS Session Manager.
Product Images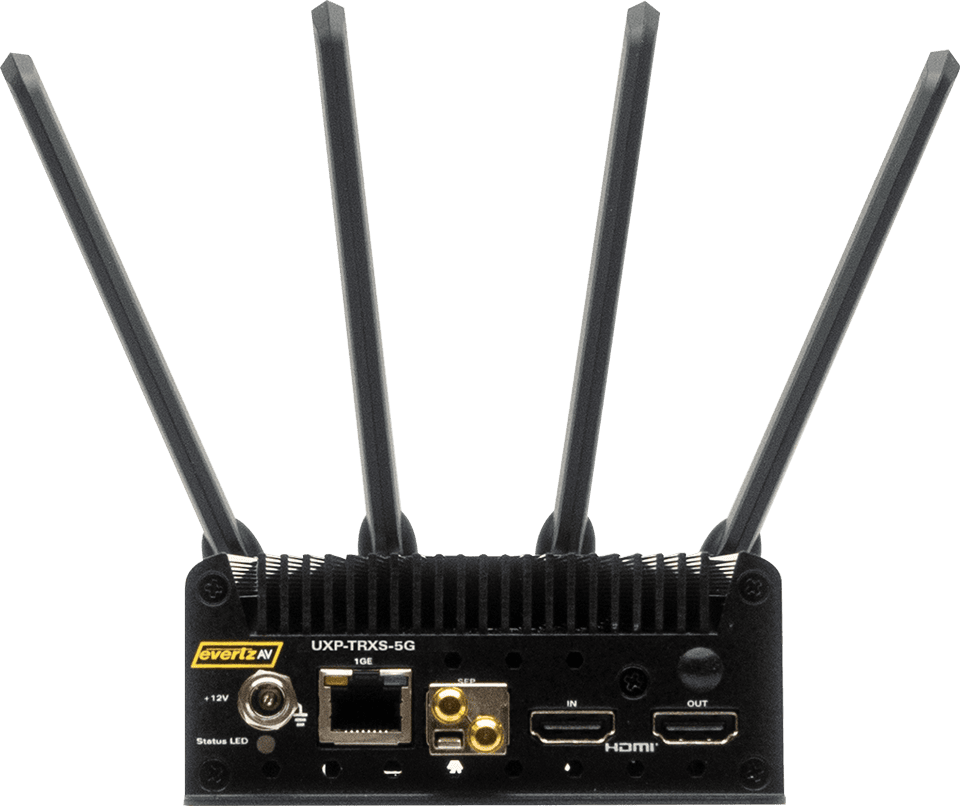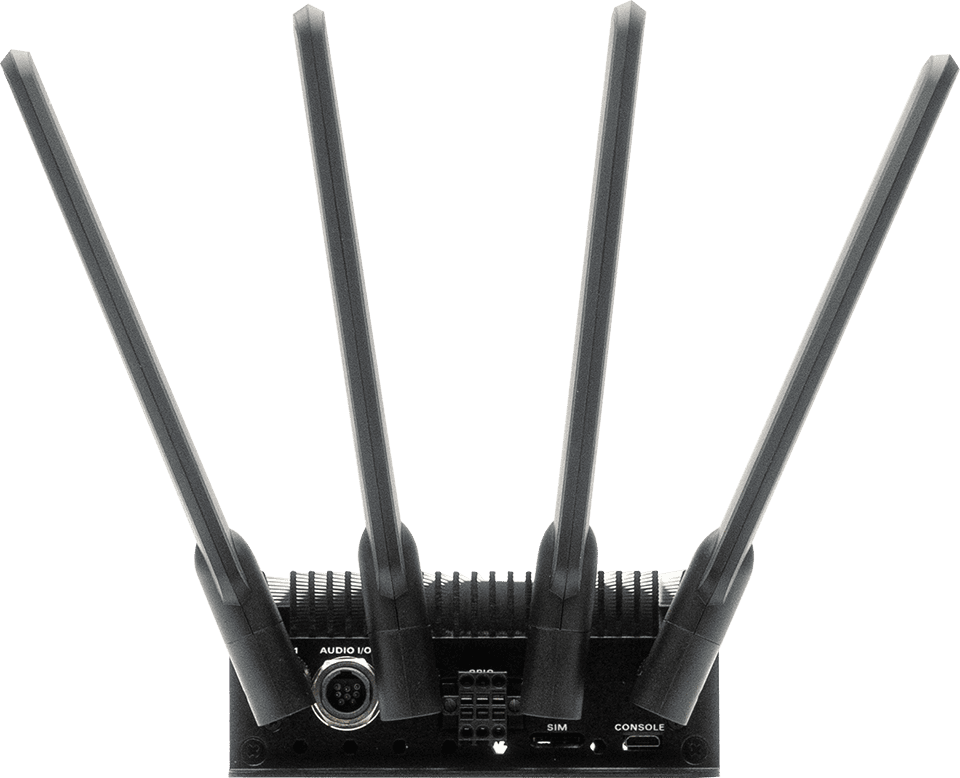 Specifications
UXP-TRXS-5G
Video Inputs
1 HDMI 2.0a
1 12G SDI (via SFP+)
Video Outputs
1 HDMI 2.0a
1 12G SDI (via SFP+)
Supported Video Resolutions
4K60 ([email protected]) and 4K50 (3840x2160p@50)
[email protected]
[email protected] (interlaced formats are supported in HEVC mode only)
[email protected] and 720p@30
Video Compression
HEVC/H.265, H.264 (8-bit and 10–bit, 4:2:2 color sampling) with selectable rates from 1 Mbps to 50 Mbps
Analog Audio Inputs / Outputs
1 8-pin Mini XLR input / output (balanced mono)
Supported Audio Sampling Frequency and Bitrate
48/96kHz up to 24-bit, PCM (Broadcast applications)
32/44.1/48/96/192kHz @ 16/20/24-bit (ProAV applications)
Audio Compression
AAC 2.0 and AAC 5.1
Supported Streaming Protocols
SRT
RTMP
Control Ethernet
10/100/1000Base-T RJ45 Ethernet Port (IEEE 802.3)
USB
1 USB port for configuration / maintenance (micro type B)
SFP Ports
1 SFP+ for 12G SDI (see available accessories)
SIM Card Connector
1 single nano SIM card connector
GPIOs
2 (software definable as input or output)
Control System
NUCLEUS Session Manager
Other Features
In-band control
HDMI output scalers for interoperability with most monitors independent of streaming video resolution
Customizable EDID tables
Web-based configuration (via NUCLEUS Session Manager)
DC Input Voltage
12VDC via supplied power adapter
Power Supply
100-240V / 47-63Hz AC input; 12VDC / 5A output
Power Consumption
40W
Ambient Operating Temperature
32° to 104° F (0° to 40° C)
Relative Humidity
10% to 90% RH (non-condensing)
Dimensions (H x W x D)
1.75in x 4.13in x 7.43in (44.45mm x 104.90mm x 188mm) (without antennae)
Weight
33.51 oz (950g)
Ordering Information
| | |
| --- | --- |
| UXP-TRXS-5G | Fanless standalone 5G 10 -bit 4:2:2 HEVC/H.264 encoder / decoder |
Available Accessories
| | |
| --- | --- |
| SFP3TR-HDBNC-12G | SFP+, 12G-SDI transceiver with HD-BNC connectors |