NUCLEUS Session Manager
AV Over IP System Controller
Key Features
Linux-based controller
Enterprise-level security
Robust network and DHCP configuration options
Straightforward process for adding new, modifying existing, and deleting unused AV gateways
Integrated services, logging, and diagnostics
Manual and automatic backup functionality
BYOD (Bring Your Own Device) web-based UI
NUC-AV-X available for small unicast AV systems with fixed routing definitions
Download the NUC-AV-10 / NUC-AV-100 / NUC-AV-ENT datasheet Download the NUC-AV-X datasheet AV Over IP System Controller
The NUCLEUS Session Manager can be considered the core of the NUCLEUS platform. It is a fully-featured linux-based centralized management server used for the configuration, control, and orchestration of the UXP AV gateways. Four models of the NUCLEUS Session Manager are available to choose from based on the size of deployment and application. The NUC-AV-X supports up to 10 UXP AV gateways and is intended for small unicast/point-to-point sessions, while the NUC-AV-10, NUC-AV-100, and NUC-AV-ENT is intended for multicast sessions and supports up to 10, 100, and 100+ UXP AV gateways respectively.

Simplified, No Nonsense User Experience
The NUCLEUS Session Manager UI has been developed and optimized so that Administrators don't have to fumble through multiple levels of pages and options to configure a simple setting. Even with its extensive feature set, the NUCLEUS Session Manager UI is straightforward and easy to use.
No Fuss Setup, No Programming Required
The NUCLEUS platform operates on a simplified configuration framework allowing administrators the ability to set up a fully functional AV distribution network in no time at all. The process has been streamlined so that a UXP AV gateway can be taken out of the box, registered on the NUCLEUS Session Manager, and be put to use in less than five minutes. Whether big or small, deployments of all sizes are handled the same way, using the same consistent process.
Unparalleled Versatility and Scalability
The NUCLEUS platform is exceedingly scalable and can be integrated into your enterprise using your existing standard IT infrastructure/IP network. NUCLEUS supports 1GbE networks and provides the highest resolutions possible with unbeatable image quality at the lowest latencies. As you grow, NUCLEUS grows with you, without limitation. To connect additional rooms, simply add additional UXP AV gateways.
Product Images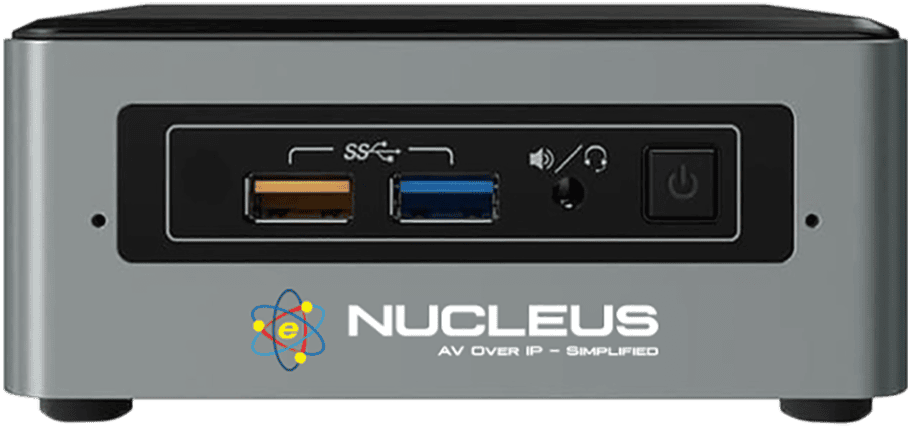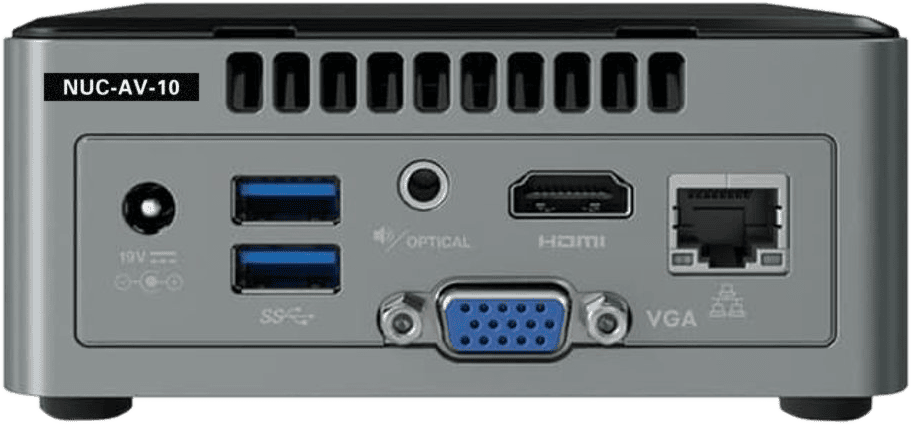 Specifications
NUC-AV-X
NUC-AV-10
NUC-AV-100
NUC-AV-ENT
# of Gateways Supported
Up to 10
Up to 10
Up to 100
100+
LAN
1 x 1Gb/s RJ45 ports
1 x 1Gb/s RJ45 ports
2 x 1Gb/s RJ45 ports
2 x 1Gb/s RJ45 ports
2 x 10Gb/s RJ45 ports
USB
4 x USB 3.0
4 x USB 3.0
1 x USB 3.0
1 x USB 2.0
2 x USB 3.0
Video Outputs
2x HDMI
1 x VGA
1x HDMI
1 x VGA
1x HDMI
1 x DisplayPort
1 x VGA
LEDs
Power
Power
Power
Power
System Cooling
N/A
N/A
3 x cooling fans
3 x cooling fans
Power Consumption
36W
65W
250W
250W
Connector
12V power adapter included
19V power adapter included
IEC 60320
IEC 60320
Voltage
Input: 100-240V / 50-60Hz auto-ranging
Output: 12V 3A
100-240V / 50-60Hz auto-ranging, 12 ~ 19V DC
100-240V / 50-60Hz auto-ranging
100-240V / 50-60Hz auto-ranging
Ambient Operating Temperature
14° to 113° F (-10° to 45° C)
32° to 104° F (0° to 40° C)
50° to 95° F (10° to 35° C)
50° to 95° F (10° to 35° C)
Non-Operating Temperature
-4° to 140° F (-20° to 60° C)
-4° to 140° F (-20° to 60° C)
-40° to 140° F (-40° to 60° C)
-40° to 140° F (-40° to 60° C)
Relative Humidity
30% to 90% (non-condensing)
8% to 80% (non-condensing)
8% to 80% (non-condensing)
8% to 80% (non-condensing)
Non-Operating Relative Humidity
20% to 95% non-condensing)
20% to 95% non-condensing)
20% to 95% non-condensing)
20% to 95% non-condensing)
Rack Units
N/A (Standalone)
N/A (Standalone)
1RU
1RU
Dimensions (H x W x D)
1.62in x 4.53in x 4in (41mm x 115mm x 102mm)
4.37in x 4.53in x 2.01in (111mm x 115mm x 51mm)
1.75in x 17in x 10in (44.5mm x 431.8mm x 254mm)
1.75in x 17in x 10in (44.5mm x 431.8mm x 254mm)
Ordering Information
| | |
| --- | --- |
| NUC-AV-X | Standalone small form factor hardware plus NUCLEUS NUC-AV-X software (support for up to 10 UXP AV gateways) |
| NUC-AV-10 | Standalone small form factor hardware plus NUCLEUS Session Manager software (support for up to 10 UXP AV gateways) |
| NUC-AV-100 | 1RU hardware plus NUCLEUS Session Manager software (support for up to 100 UXP AV gateways) |
| NUC-AV-ENT | 1RU hardware plus NUCLEUS Session Manager software (support for 100+ UXP AV gateways) |