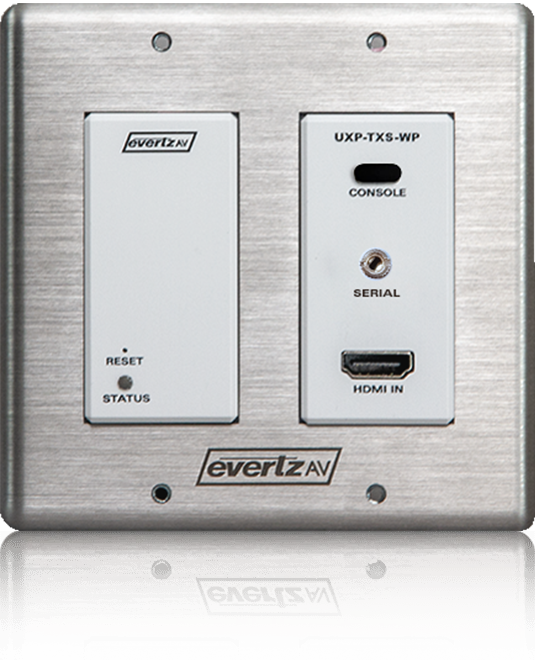 UXP-TXS-WP
Single-Channel HDMI AV Transmitter Wall Plate
Key Features
One HDMI input (HDMI type A)
Resolution up to 3840x2160p @ 30Hz
RS-232/RS-422 support for serial communication/control
802.3at Type 2 PoE+ support
Auto-discovery and simplified provisioning features
Ultra low latency transport over 2.5GbE/1GbE links
Third-party control support Standalone AV Transmitter
The UXP-TXS-WP AV transmitter is a no-nonsense, cost-effective, single-channel HDMI video and audio wall plate transmitter. The UXP-TXS-WP has one HDMI input port supporting resolutions of up to 3840x2160p @ 30Hz and transmits AV content with ultra low latency over its transport link. Additional functionality includes support for 802.3at Type 2 PoE+ as well as RS-232/RS-422 for serial communication and control. Pair the UXP-TXS-WP with EvertzAV's UXP-RXS-WP single-channel HDMI AV receiver wall plate for an unbeatable low-cost AV transport solution.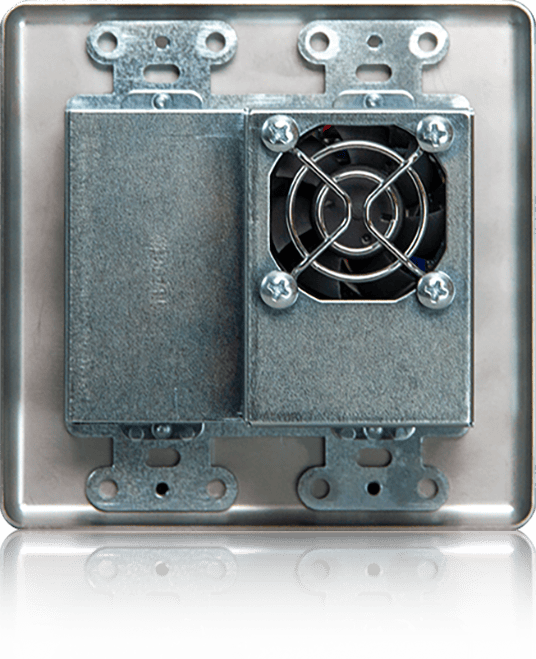 Fully Integrated with the NUCLEUS Platform
The UXP-TXS-WP is a managed element of the NUCLEUS platform which is controlled by the NUCLEUS Session Manager - a full featured centralized management server used for the configuration, control, and orchestration of the UXP AV gateways. Any combination of UXP AV gateways can be interconnected using a COTS (Commercial Off The Shelf) network switch and then configured and managed by the NUCLEUS Session Manager.
Easy Setup, No Programming Required
The NUCLEUS platform operates on a simplified configuration framework allowing administrators the ability to set up a fully functional AV distribution network in no time at all without the hassles associated with most AV distribution platforms available on the market today. The process has been streamlined so that a UXP AV gateway can be taken out of the box and be put to use in less than five minutes. Whether big or small, deployments of all sizes are handled the same way, using the same consistent process.
Product Images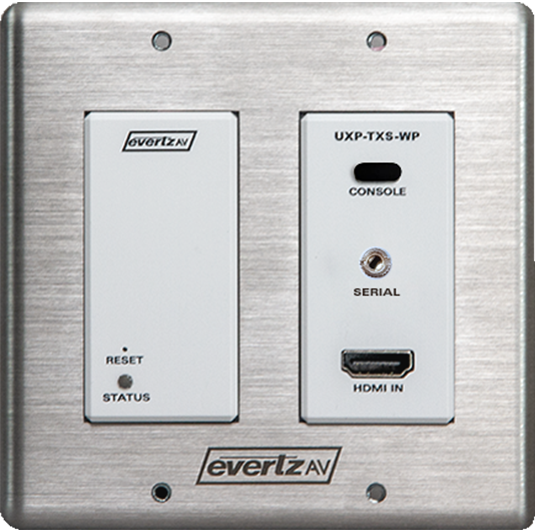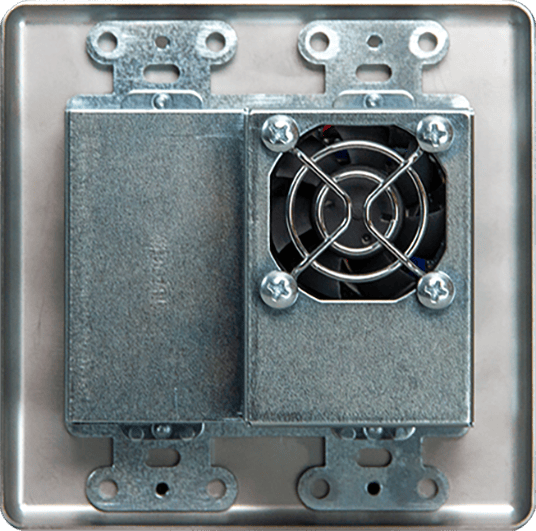 Specifications
UXP-TXS-WP
Video Inputs
1 HDMI (type A)
Supported Resolutions
Up to 3840x2160p @ 30 Hz
Ethernet Connector
RJ45
Transport Ports
1 2.5GbE/1GbE Multi-Gigabit port
RS-232/RS-422
M5 DIN connector (Optional M5 to DB9 converter cable available – see Available Accessories)
HDMI Audio
Yes
In-Band Control
Yes
Control System
NUCLEUS Session Manager
Web-Based Configuration
Yes (via NUCLEUS Session Manager)
Security Compliance
Compliant with applicable DoD Network Devices Security Technical Implementation Guide (STIG)
Power Supply
802.3at Type 2 PoE+ (provides power to device over Cat6a/Cat7 cable)
Power Consumption
23W
Ambient Operating Temperature
32° to 104° F (0° to 40° C)
Relative Humidity
10% to 90% RH (non-condensing)
Dimensions (H x W x D)
3.58in x 4.24in x 1.60in (91mm × 107.6mm × 40.6mm)
Note: With panel cover included.
Weight
9.98 oz (282.93 g)
Ordering Information
| | |
| --- | --- |
| UXP-TXS-WP | Single-channel HDMI AV transmitter wall plate: single HDMI input with PoE+ and RS-232/RS-422 support |
Available Accessories
| | |
| --- | --- |
| UXP-CBL-DB9MDTE-4P-15 | 4 pin to DB9 (male) serial cable, 1.5m length |
| UXP-CBL-DB9-4P-15 | 4 pin to DB9 (female) serial cable, 1.5m length |