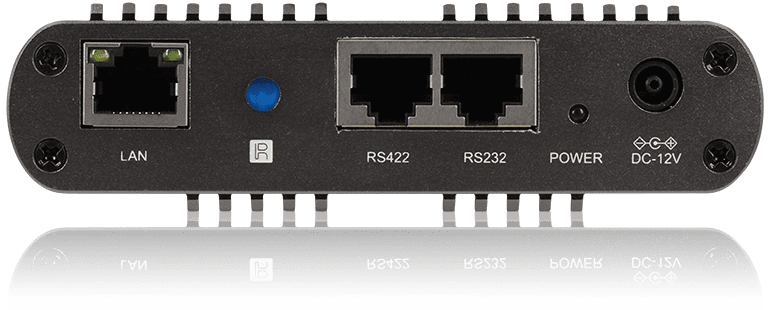 EV-RS4K-1
4K HDBaseT PTZ Receiver
Key Features
HDBaseT SingleWire technology
Uses one category cable to deliver power, up to 4K resolution video output, RJ45 to RS-232, RS-422/RS-485 control, and audio
Receive up to HD/Ultra-HD 4K resolution video
HDMI 1.4b video features supported
RS-232 and RS-422/RS-485 control over Ethernet port and IR remote control supported
25W 802.3at PoE+ power supply from HDBaseT receiver One-Cable Solution HDBaseT Receiver
The EV-RS4K-1 is an HDBaseT receiver that provides HDBaseT video reception over extremely long distances (up to 328ft/100m for 1080p and 230ft/70m for 4K). In addition to video reception, the EV-RS4K-1 allows audio (7.1 channel surround sound or stereo digital), control signals (IP/IR/RS232/RS422/RS485), and power (25W 802.3at PoE+) to be delivered using a single Cat6 cable. The EV-RS4K-1 is a high-performance HDBaseT receiver encapsulated in a small and lightweight form factor (i.e. easy to install and ideal for wall mounting or desk top mounting) that generates low heat.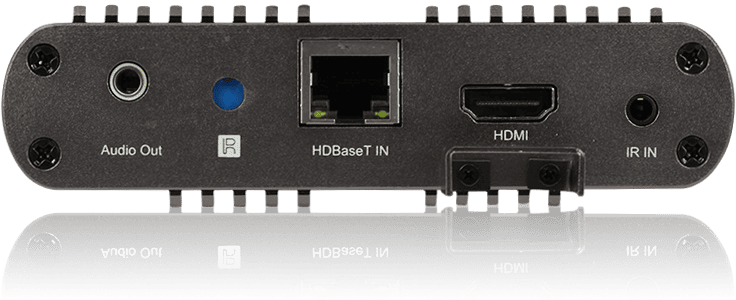 Perfect Companion to EvertzAV's 4K PTZ Camera
With 4K resolution support (up to 3840x2160p @ 29.97 fps) via HDBaseT and HDMI outputs, along with 1080p support via HD-SDI, the EV-PTZ-4K-3 4K camera integrates directly with EvertzAV's EV-RS4K-1 HDBaseT receiver. The 4K PTZ camera provides advanced features such as a 12x optical zoom, a 71 degree viewing angle, 350/120 degrees of continuous pan/tilt, a 6-step noise reduction system, image flipping capabilities for ceiling mount applications, and much more. The 4K PTZ camera can be installed anywhere and using the EV-RS4K-1 HDBaseT receiver the unit can be remotely powered/controlled and video/audio received back.
HDBaseT: The Worldwide One-Cable Standard
EvertzAV, a member of the HDBaseT Alliance, is proud to develop and introduce more and more devices with HDBaseT technology. HDBaseT has become the technology of choice for the professional AV industry due to its versatility, performance, simplicity, and stability compared to conventional UTP transmission. The EV-RS4K-1 HDBaseT receiver is an extremely robust device that can instantly open up a whole new world of use case possibilities for your professional HDBaseT-compatible AV devices. For more information on the HDBaseT standard , please visit the HDBaseT website.
Product Images


Specifications
EV-RS4K-1
Video Support
2160p @ 29.97/25 fps, 1080p @ 59.94/50 fps, 1080i @ 59.94/50 fps, and 720p @ 59.94/50 fps
HDMI Compliance
HDMI 1.4b
HDMI over UTP
Cat6a/Cat7: 328ft (100m) for up to 1080p @ 59.94
Cat6a/Cat7: 230ft (70m) for up to 4K @ 29.97
Equalization
Auto
Audio Support
Surround sound (up to 7.1 channels) or stereo digital audio
Serial
RS-232, RS-422/RS-485
IR Pass-Thru
One-way (receive)
IP Control Support
Yes
Video Output
1x HDMI type A – HDMI (4K)
1x RJ45 (100Mbps for extending connections only – no IP encoding functionality)
Video Input
1x RJ45 HDBaseT (4K)
Audio Output
3.5mm jack
Control Interface
2x RJ45: RS-232, RS-422/RS-485 (RJ45 to phoenix connector adapter included)
1x IR: 3.5mm IR receiver port
Ambient Operating Temperature
32° to 104° F (0° to 40° C)
Relative Humidity
≤80% suitable for use
Power Input
DC12V, 3A
Power Output
802.3at PoE+ (provides power to device over Cat6a/Cat7 cable)
Power Consumption
10W (25W via PoE+)
Housing
Metal enclosure
Dimensions
1.3in x 4.65in x 6.46in (33mm x 118mm x 164mm)
Weight
18.34 oz (519.93 g)
Ordering Information
| | |
| --- | --- |
| EV-RS4K-1 | HDBaseT receiver with HDBaseT, audio, IP inputs, HDMI 1.4b output, 802.3at PoE+ |