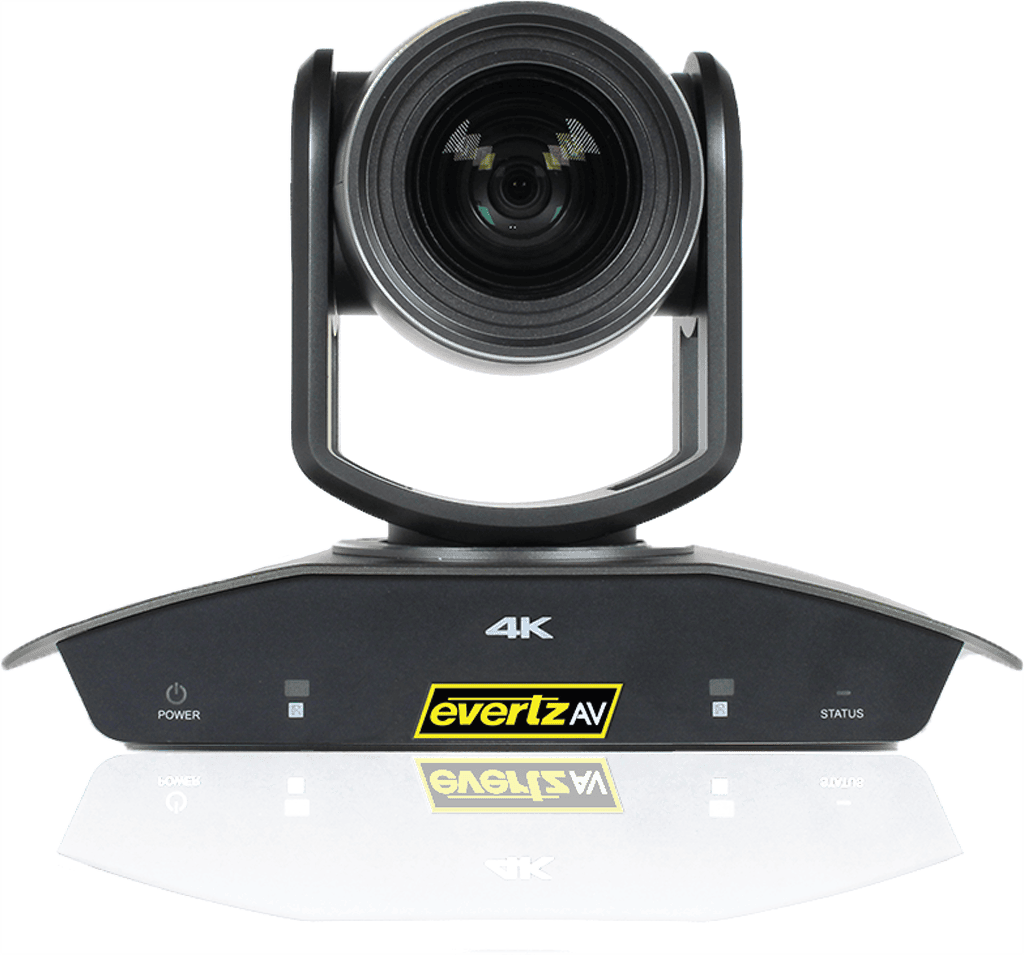 EV-PTZ-4K-3
4K HDBaseT PTZ Camera
Key Features
4K, 1080p, and 720p resolution support
HDBaseT™, HDMI™, and HD-SDI video outputs
20x optical zoom (up to 30x/40x in 4K/1080p with SRZ technology)
70.2 degrees wide viewing angle
±350 degrees continuous pan, ±120 degrees continuous tilt
Simple single cable installation, unit can be remotely powered and controlled using HDBaseT Advanced Features and Functionality
With 4K resolution support (up to 3840x2160p @ 29.97 fps) via HDBaseT and HDMI outputs, along with 1080p support via HD-SDI, the EV-PTZ-4K-3 4K camera integrates directly with EvertzAV's MMA-10G range of products. The 4K PTZ camera provides advanced features such as a 20x optical zoom, a 70.2 degree viewing angle, 350/120 degrees of continuous pan / tilt, a 6-step noise reduction system, image flipping capabilities for ceiling mount applications, and much more. The 4K PTZ camera can be installed anywhere and using the EV-RS4K-1 HDBaseT receiver the unit can be remotely powered/controlled and video / audio received back.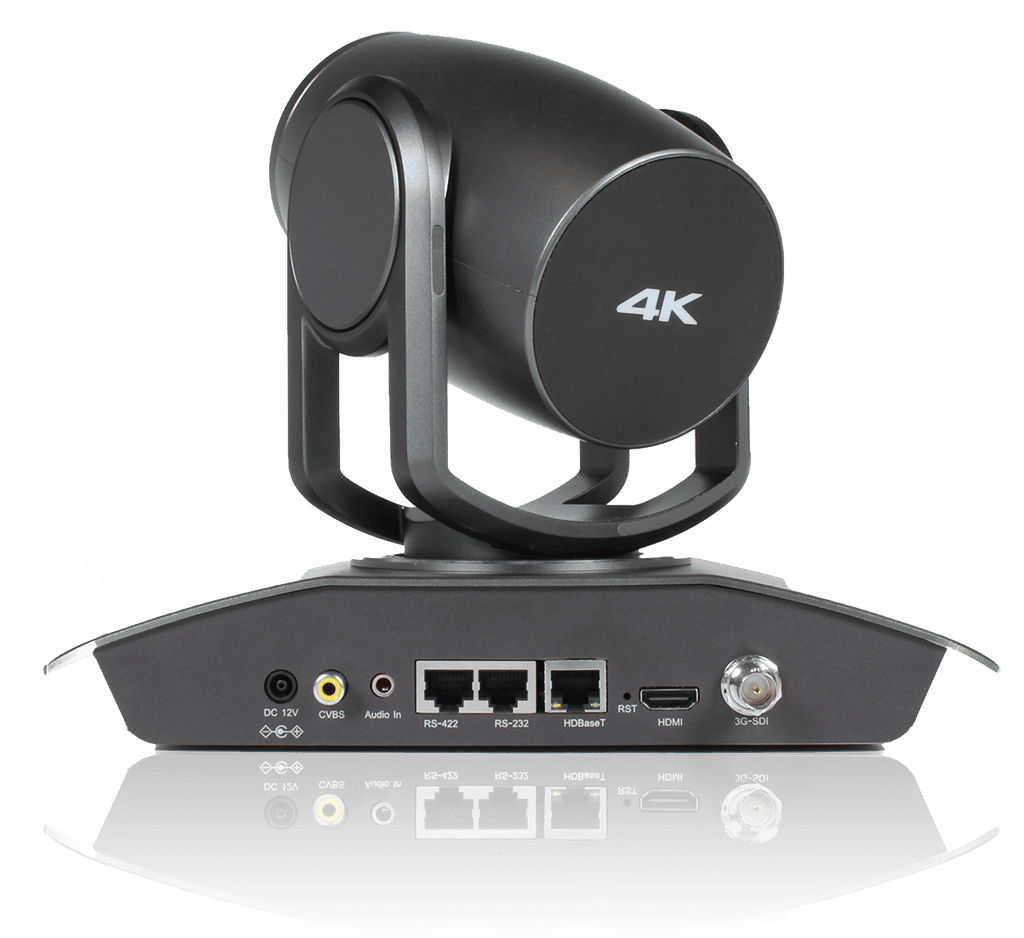 Space / Application Versatility
The EV-PTZ-4K-3 4K resolution pan / tilt / zoom camera is perfect for any application from small to large. The 4K PTZ camera can be used in/for a multitude of spaces / applications ranging from corporate spaces, higher education environments, house of worship, and government applications.
High-Quality Design
The EV-PTZ-4K-3 4K camera was designed with precision, speed, and silence in mind. The main body of the 4K PTZ camera is made from a ultra-light magnesium alloy, which reduces interference and guarantees the highest in picture quality. Internally, the 4K PTZ camera's pan/tilt mechanism uses a high-precision stepper motor that guarantees extremely smooth and quiet pan and tilt movements. The EV-PTZ-4K-3 4K camera has a clean aesthetic look and can be mounted to any surface using its flexible mounting options.
Optional One-Cable Solution HDBaseT Receiver
Available as an optional accessory, the EV-RS4K-1 is an HDBaseT receiver for the EV-PTZ-4K-3 that provides HDBaseT 4K video transmission over extremely long distances. In addition to 4K video, the EV-RS4K-1 allows audio, IP/IR/RS232/RS422/RS485 control signals, and camera power to be delivered using a single Cat6 cable. The EV-RS4K-1 HDBaseT receiver can instantly open up a whole new world of use case possibilities for the EV-PTZ-4K-3 4K PTZ camera.
Product Images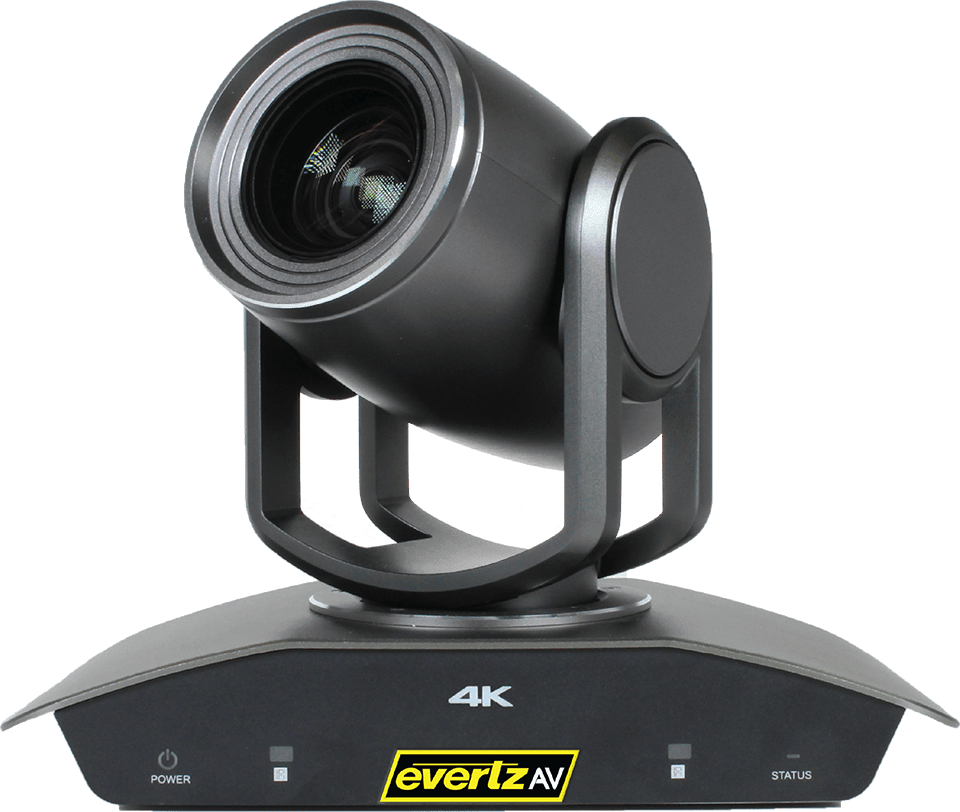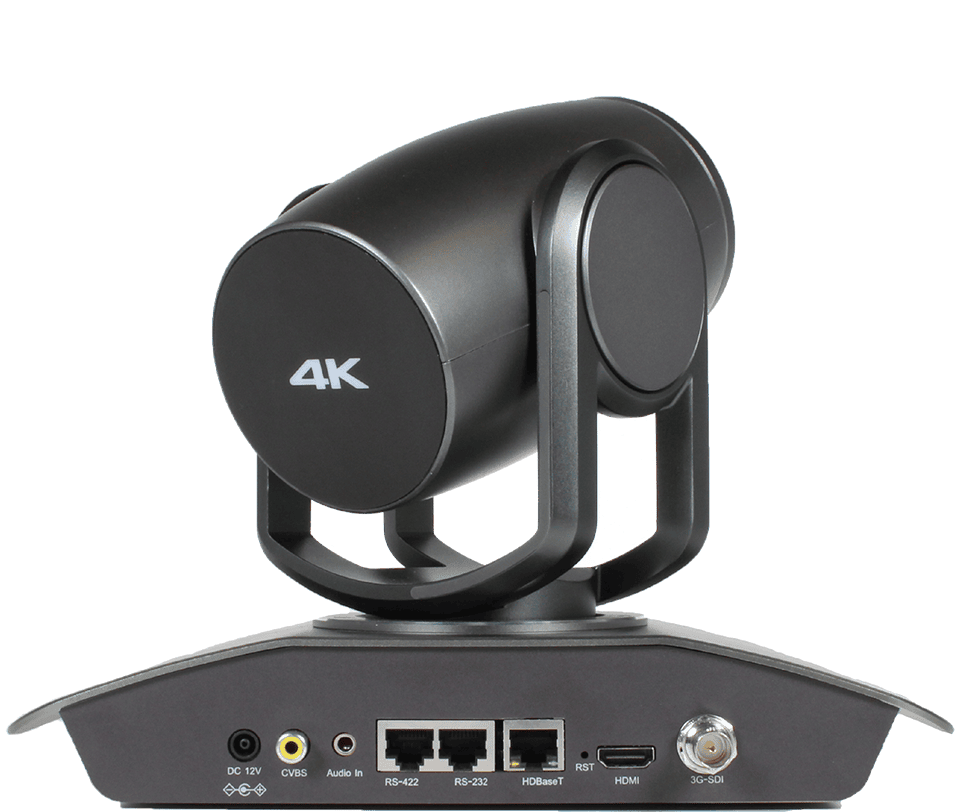 Specifications
EV-PTZ-4K-3
Image Sensor
1/2.5" CMOS 8.51MP
Lens
Optical zoom 20x. Up to 30x in 4K and 40x in 1080p with Super Resolution Zoom (SRZ) feature
Digital Zoom
12x
Horizontal Viewing Angle
70.2°(W) ~ 4.1°(T)
Aperture
F2.0(W) ~ F3.8(T)
Minimum Illumination
0.4lux (1/30s, 50%, High Sensitivity Mode On), 1.6lux (1/30s, 50%, High Sensitivity Mode Off),
0.06lux(1/4s(1/3s), 50%, High Sensitivity Mode On), 0.21lux (1/4s(1/3s), 50%, High Sensitivity Mode Off)
Shutter Speed
1/1~1/10000s (22 steps)
Focus
Auto Focus (Trigger/Interval), Manual Focus (Variable Speed), One Push Trigger, Near Limit
White Balance
AUTO, ATW, Indoor, Outdoor, One Push WB, Manual WB, Outdoor Auto, Sodium Vapor Lamp (Fix/Auto/Outdoor Auto)
Exposure
Full Auto, Gain, Gain Limit, Shutter Priority, Iris Priority, Manual, Bright, Slow Shutter, Max/Min Shutter Limit, Slow AE
Noise Reduction
On/Off (levels 1 to 5 and Off, 6 steps total), 2D/3D
S/N Ratio
50dB
Additional Features
WDR Support, Image Stabilizer, Internal Sync System, High Sensitivity, Defog Mode, Backlight Compensation, HLC, Flipper, Mirror
Physical Remote Control
Yes
Pan and Tilt Movement
Horizontal: ±350 degrees continuous pan (zoom adaptive speed range: 0.05°〜100°/s)
Vertical: +90 degrees to -30 degrees (zoom adaptive speed range: 0.05°〜50°/s)
Preset Positions and Speed
128 (speed adjustable [5 levels] up to 150°/s, 6 presets on remote control)
Preset Memory
Yes (preset memory for image parameters), home position support
Environment
Indoor
Video Output
1x RJ45 - HDBaseT(4K) with HDBaseT video output transmission distance up to 100 meters
1x HDMI Type A- HDMI1.4 (4K), 1x BNC-3G-SDI (1080p), 1x CVBS
Ethernet Cable Support
High-quality Cat6 cable required - supported lengths of 100m ([email protected]) and 70m ([email protected])
Resolutions
HDMI: 4K [email protected]/25/23.98, [email protected]/50/29.97/25, [email protected]/50, [email protected]/50/23.98
SDI: [email protected]/50/29.97/25/23.98, [email protected]/50, [email protected]/50
SDI Standard
Supports SD-SDI, HD-SDI, 3G-SDI
Audio Input
3.5mm jack
Control Interface
IP control, 2x RJ45 - RS232/RS422/RS485 (phoenix connector adapter included), IR remote control sensor
Control Protocol
VISCA / VISCA over IP / Pelco P,D
Web and API Authentication Method
Digest
Power Input
DC12V, HDBaseT POE+
Power Consumption
15W
Ambient Operating Temperature
14° to 122° F (-10° to +50° C)
Relative Humidity
≤80% suitable for use
Dimension (H x W x D)
10.24in x 5.67in x 7.17in (260mm x 144mm x 182mm)
Weight
84.66 oz (2400 g)
Ordering Information
| | |
| --- | --- |
| EV-PTZ-4K-3 | 4K PTZ camera with HDBaseT, HDMI, and HD-SDI outputs |