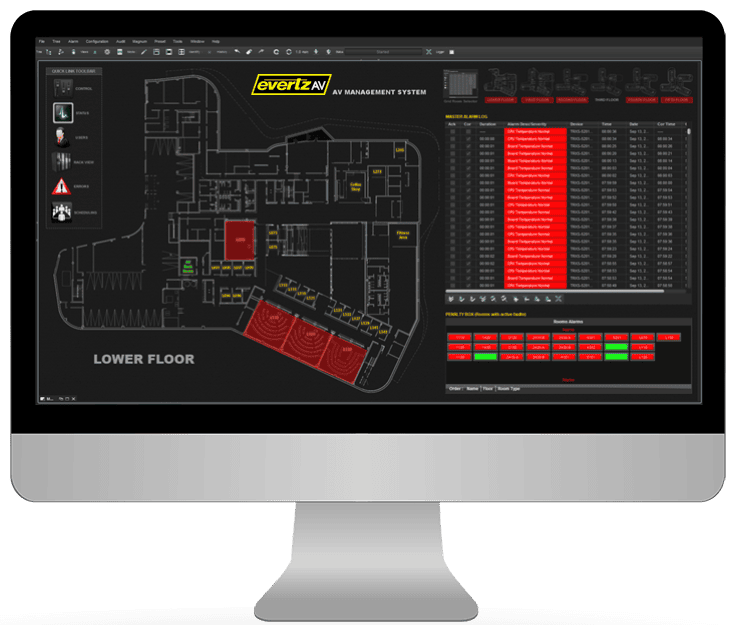 VLPRO-AVOC-NMS
AV Operations Center - Network Management System
Key Features
Manages and controls MMA-10G platform
Provides graphical representation of enterprise AV deployments
Provides an efficient control interface to assist support personnel
Actively monitors and alarms equipment in the enterprise
Works with both EvertzAV and third-party products
Solution integrates with MMA-10G for automation Evertz' VistaLINK PRO is an advanced end-to-end NMS (Network Management System) for the professional AV industry that provides a single interface to manage and monitor the entire operational ecosystem. Leveraging VistaLINK PRO's comprehensive feature set and versatile functionality, EvertzAV's VLPRO- AVOC-NMS solution is a specially designed monitoring and control solution for organizations that desire a centrally managed AV operations center. A centralized operations center is an effective way to ensure rapid support. VLPRO-AVOC-NMS allows enterprises to:
Interconnect AV over the enterprise to see into each space remotely.
Utilize tools to streamline support and capture faults.
Gather and review analytics to plan for the future.
VLPRO-AVOC-NMS Configuration
The VLPRO-AVOC-NMS solution consists of two main components:
Support Operator Stations (Minimum 1):

Intended to deep dive into resolving room issues.
Utilizes VLPRO Graphics – AVOCE support tool.
Confidence monitor to work on specific room.
One or more stations can be used depending on the size of the organization.

Overview Video Wall (Optional):

Provides an overview of the entire system.
Provides generic information for all support personnel.
Can include video from rooms, VistaLINK PRO, or other sources.
Integrate a Video Wall for a More Robust Solution
Video walls can be incorporated into the VLPRO-AVOC-NMS solution to provide overview information and can be tailored in any number of ways to suit the requirement of your operations center.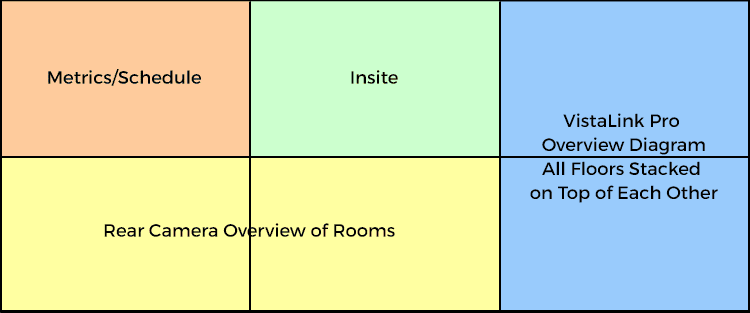 Product Images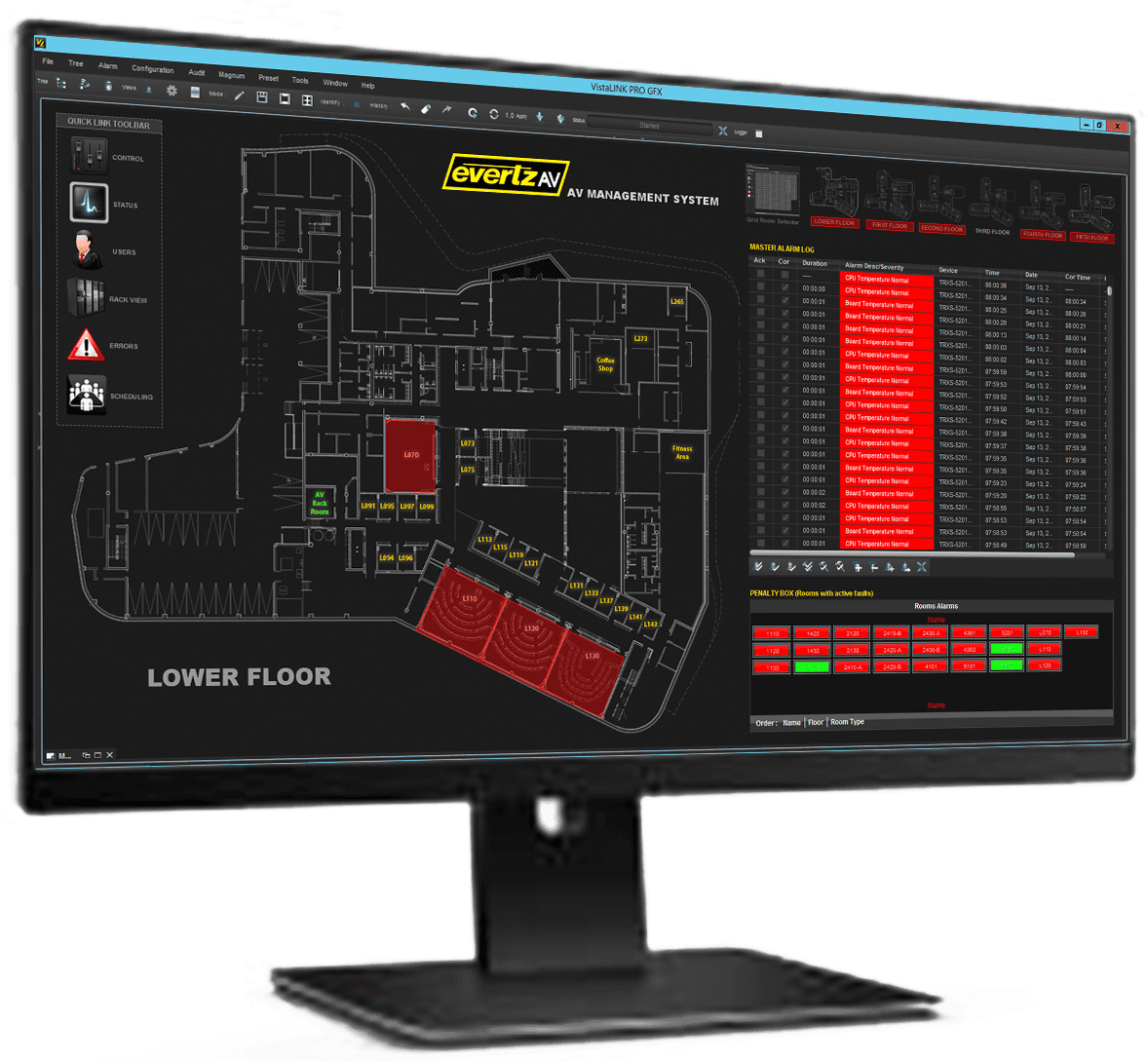 Navigation Pane
Provides navigation to rooms in the enterprise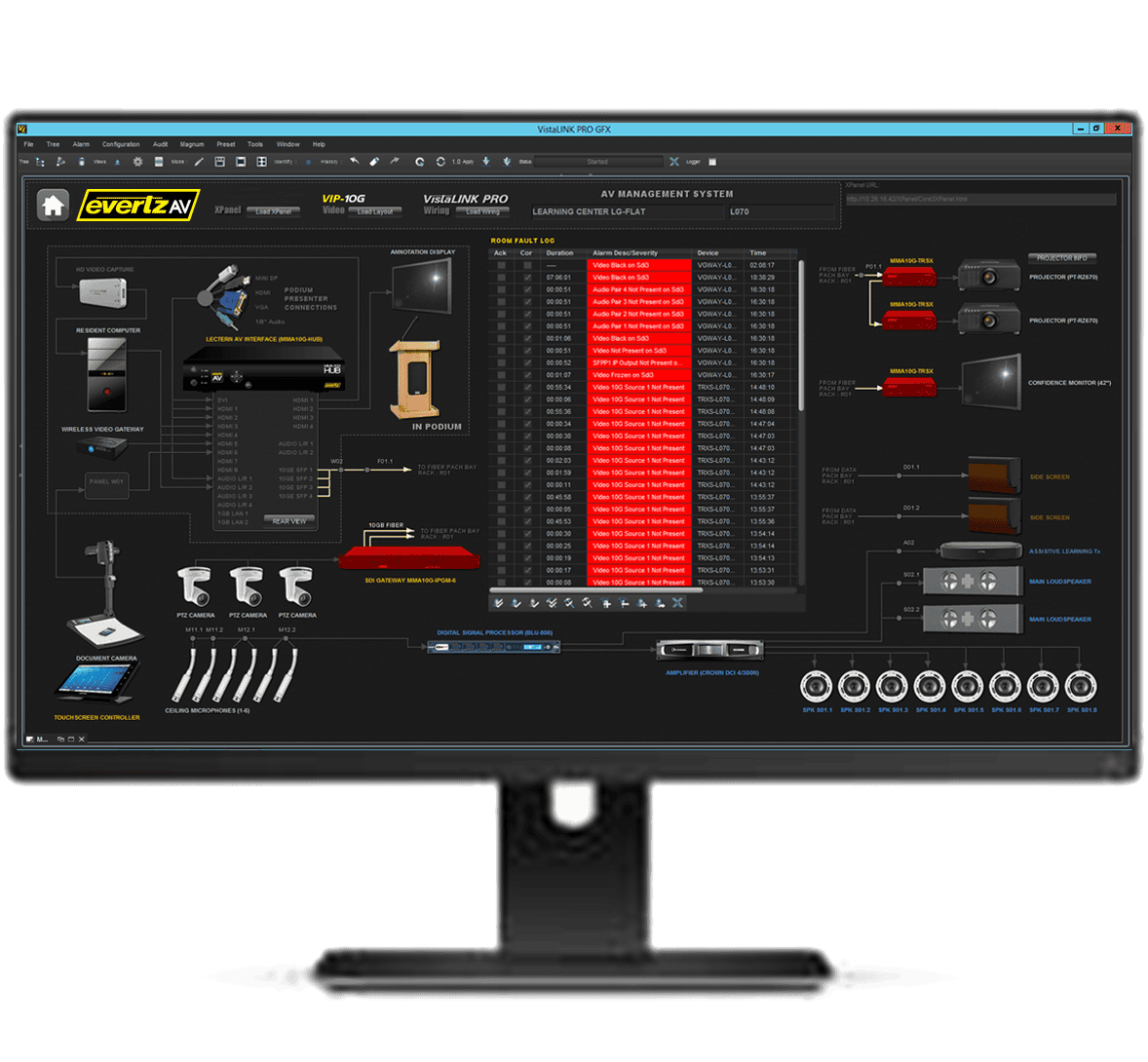 Active Operation Pane
Provides relevant tools for managing space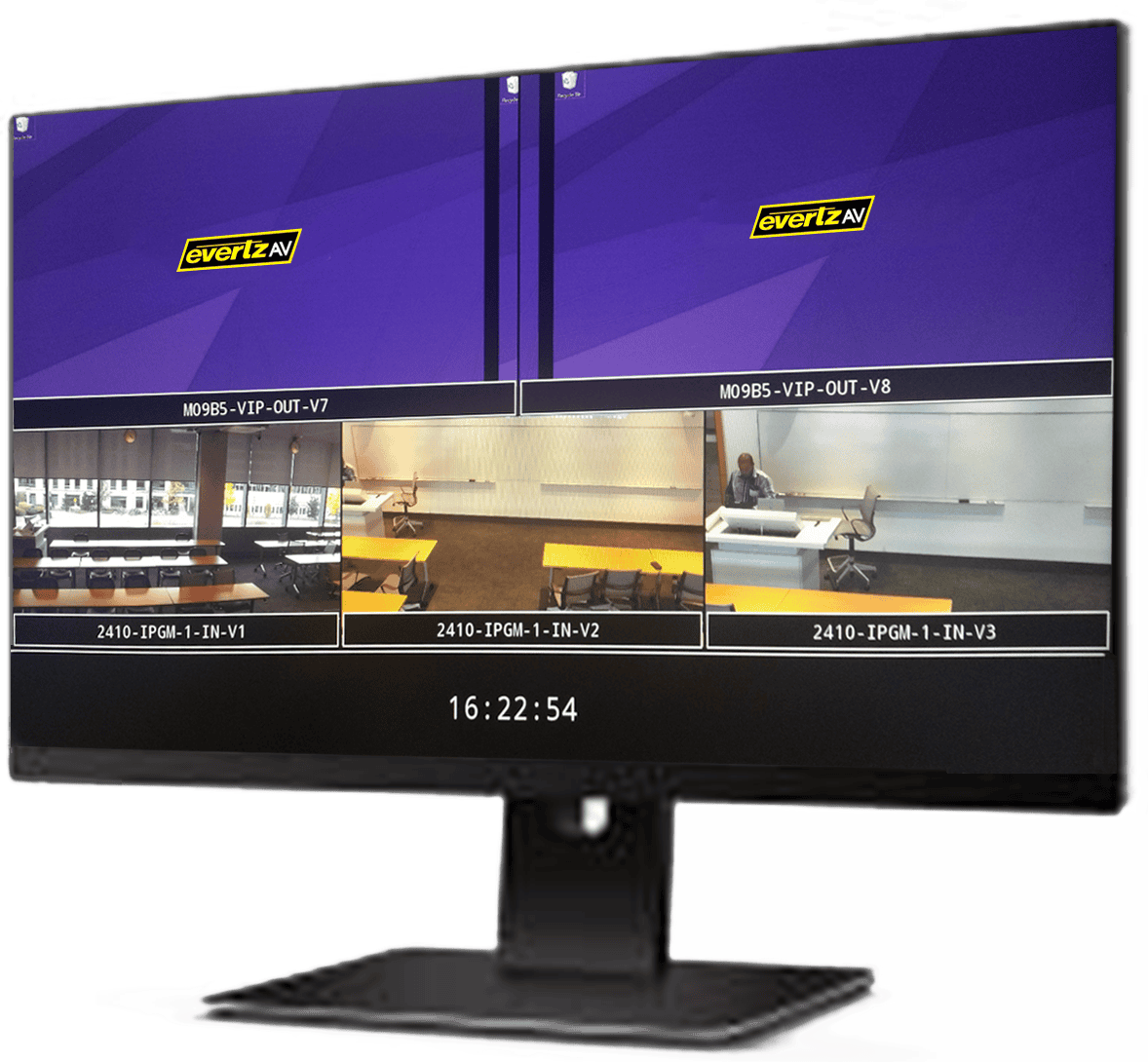 Multiviewer Confidence Monitor
Provides live video feeds of sources and destinations
Ordering Information
VLPRO-AVOC-NMS-1

Packaged VLPRO-PLUS system for AV projects, which includes:

VLPRO-PLUS: VistaLINK PRO PLUS SNMP alarm monitoring, with customizable graphics mapping support and module configuration application software (for 1 client station with 1 year maintenance support)
+SCH: VistaLINK PRO automated configuration, scripting and scheduling application software option
+RSERV: Redundant VistaLINK PRO server
+WSAPI: Web Service Programmers API for XML/SOAP
+TBD: Third-party TRAP monitoring option
Statement of work creation
Graphical overview main page with room/service selection grid and master alarm log
All room services created and organized by building/floor in navigation tree
All appropriate equipment added to service containers