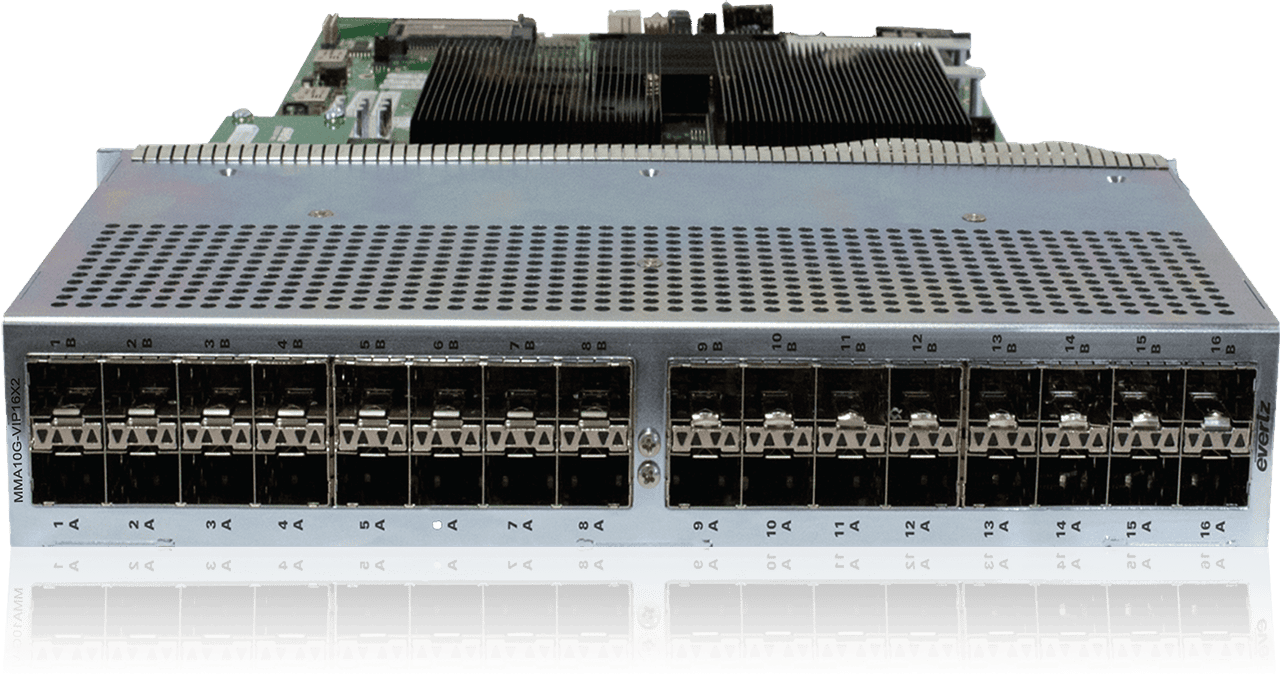 MMA10G-VIP
Multi-Image Display Processor
Key Features
Multi-image display processor solution
10GE network-based ports used to receive multiple sources and transmit windowed output
Up to 32 sources displayed across 8 unique displays
Support for on-screen graphics including clocks and labels
Pooled network resourced can be shared across multiple spaces The MMA10G-VIP offers multiview functionality with 4 to 32 inputs and 1 to 8 outputs (based on ordering options) all via 10G streaming physical interfaces. The MMA10G-VIP displays inputs at any size, aspect ratio, and position. The MMA10G-VIP device accepts uncompressed video over 10G multiple links as sources; and outputs mosaic uncompressed and JPEG2000 (optional) encoded signals over IP.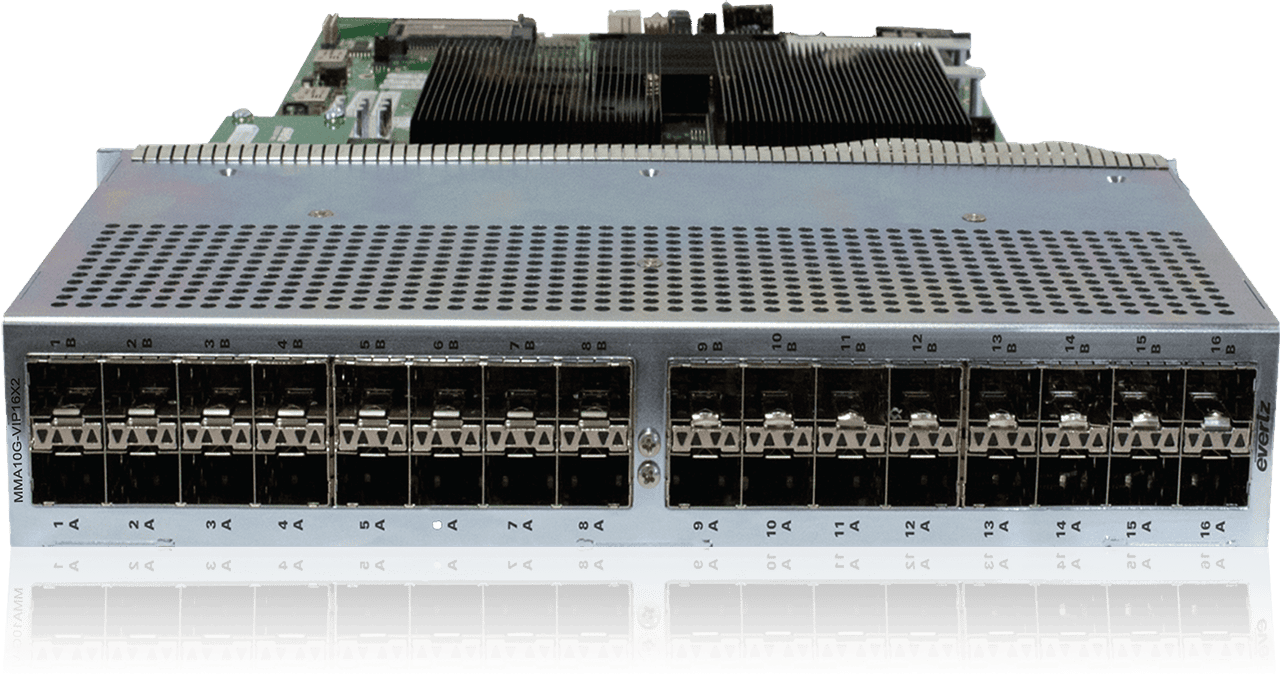 Intuitive Control and Configuration
The MMA10G-VIP is VistaLINK enabled, offering remote monitoring, control, and configuration capabilities via SNMP (Simple Network Management Protocol). The MMA10G-VIP is easily configurable via a web server interface. Layout creation can be performed in a live control environment using EvertzAV's VUE software.
High Video Quality
The MMA10G-VIP provides the best quality input reproduction employing the latest in video processing technology developed by EvertzAV. It supports output display resolutions of up to WUXGA (1920x1200) and full screen views of any input on an output (optional licenses allow for resolution support of up to 4K/60).
Designed for Performance
The MMA10G-VIP is a hot-swappable device which can be populated in an Evertz EMX6-FR, EMX3-FR, or EMX1-FR frame with an option for redundant power supplies. The MMA10G-VIP integrates into a very flexible infrastructure to harness the many advantages provided by high bandwidth 10GE connectivity. The VIP provides support for dynamic under monitor displays and tallies from routers and switchers.
Product Images

Specifications
MMA10G-VIP-32x2
Input Format
Uncompressed 3G/HD/SD over 10GE (optional: JPEG2000 over 10GE)
Output Format
Uncompressed 3G/HD/SD over 10GE (optional: JPEG2000 over 10GE)
Maximum Input Resolutions
1080p @ 60 Hz (MMA10G-VIP32X2+2K60 and MMA10G-VIP16X2+2K60)
2160p @ 30 Hz (MMA10G-VIP32X2+4K30 and MMA10G-VIP16X2+4K30)
2160p @ 60 Hz (MMA10G-VIP32X2+4K60 and MMA10G-VIP16X2+4K60)
10GE Ports
32 SFP+ cages: 16 main, 16 redundant (see available accessories)
Slots
2 slots of EMR frame
DC Input Voltage
+12VDC
Power Consumption
135 W
Ambient Operating Temperature
32° to 104° F (0° to 40° C)
Relative Humidity
10% to 90% RH (non-condensing)
Ordering Information
| | |
| --- | --- |
| MMA10G-VIP-16x2+2K60 | Advanced multi-image display processor w/ 10GE interface: up to 16 inputs can be displayed on 2 outputs (max output resolution 2K/60) |
| MMA10G-VIP-16x2+4K30 | Advanced multi-image display processor w/ 10GE interface: up to 8 inputs can be displayed on 2 outputs (max output resolution 4K/30) |
| MMA10G-VIP-16x2+4K60 | Advanced multi-image display processor w/ 10GE interface: up to 4 inputs can be displayed on 1 output (max output resolution 4K/60) |
| MMA10G-VIP-32x2+2K60 | Advanced multi-image display processor w/ 10GE interface: up to 32 inputs can be displayed on 2 outputs (max output resolution 2K/60) |
| MMA10G-VIP-32x2+4K30 | Advanced multi-image display processor w/ 10GE interface: up to 16 inputs can be displayed on 2 outputs (max output resolution 4K/30) |
| MMA10G-VIP-32x2+4K60 | Advanced multi-image display processor w/ 10GE interface: up to 8 inputs can be displayed on 2 outputs (max output resolution 4K/60) |
Ordering Options
+FK2OUT
Adds two additional display outputs to a VIP
Applicable to the MMA10G-VIP16x2+2K60, MMA10G-VIP32x2+2K60, and MMA10G-VIP32x2+4K30 only
+FK2OUT+FK2OUT
Adds four additional display outputs to a VIP
Applicable to the MMA10G-VIP32x2+2K60 only
+FK2OUT+FK2OUT+FK2OUT
Adds six additional display outputs to a VIP
Applicable to the MMA10G-VIP32x2+2K60 only
+J2KE
Mirrored J2K output
Applicable to the MMA10G-VIP16x2+2K60 and MMA10G-VIP32x2+2K60 only
+FK2OUT+J2KE
Adds two additional display outputs to a VIP plus J2K-mirrored copies of outputs 1 and 2.
Applicable to the MMA10G-VIP16x2+2K60 and MMA10G-VIP32x2+2K60 only
+FK2OUT +FK2OUT+J2KE
Adds four additional display outputs to a VIP plus J2K-mirrored copies of outputs 1 and 2.
Applicable to the MMA10G-VIP32x2+2K60 only
+FK2OUT+FK2OUT+FK2OUT+J2KE
Adds six additional display outputs to a VIP plus J2K-mirrored copies of outputs 1 and 2.
Applicable to the MMA10G-VIP32x2+2K60 only
Available Accessories
| | |
| --- | --- |
| EMX1-FR | 1RU frame (2 slots), requires FC |
| +PS | Redundant PS for EMX1-FR |
| EMX3-FR | 3RU frame (5 slots), requires FC |
| +PS | Redundant PS for EMX3-FR |
| EMX6-FR | 6RU frame (15 slots), requires FC |
| EMX6-PS | Redundant PS for EMX6-FR |
| EMX-FC | Frame controller for all EMX frames |
| MMA10G-SFP-1G | SFP+ 1GE |
| MMA10G-SFP-TR85 | SFP+, 10GE, 850nm, MMF, 50/125, LC/LC |
| MMA10G-SFP2-TR13 | SFP+, 10GE, 1310nm, SMF, 9/125, LC/LC, 10km |
| MMA10G-SFP-SFP-MM3 | 3m SFP+ to SFP+ fiber patch cable, 10GE, AOC, 850nm |