MMA10G-TRS4K-4x2
Standalone 4K/60 Dual HDMI Transceiver
Key Features
Four HDMI 2.0A inputs and two HDMI 2.0A outputs
Resolution up to 4096x2160p @ 60Hz, 4:4:4 color sampling
Ultra low latency transport over 10GE links
Five USB 2.0 ports available on MMA10G-TRS4K-4x2U
Customizable EDID tables
Full integration with MAGNUM-AV management system
Remote monitoring capabilities using SNMP protocol
Web-based configuration Standalone 4K Dual HDMI Transceiver
The MMA10G-TRS4K-4x2 standalone 4K/60 dual HDMI transceiver accepts up to four HDMI inputs and provides up to two HDMI outputs, in addition to audio and USB HID. The MMA10G-TRS4K-4x2 is a standalone device which is compact and quiet and can be installed in various in-room locations, including behind monitors, under/inside desks and lecterns, and floor boxes. The MMA10G-TRS4K-4x2U version of the product offers USB 2.0 (Host or Device), which can be sent at full bandwidth over the 10GE interface.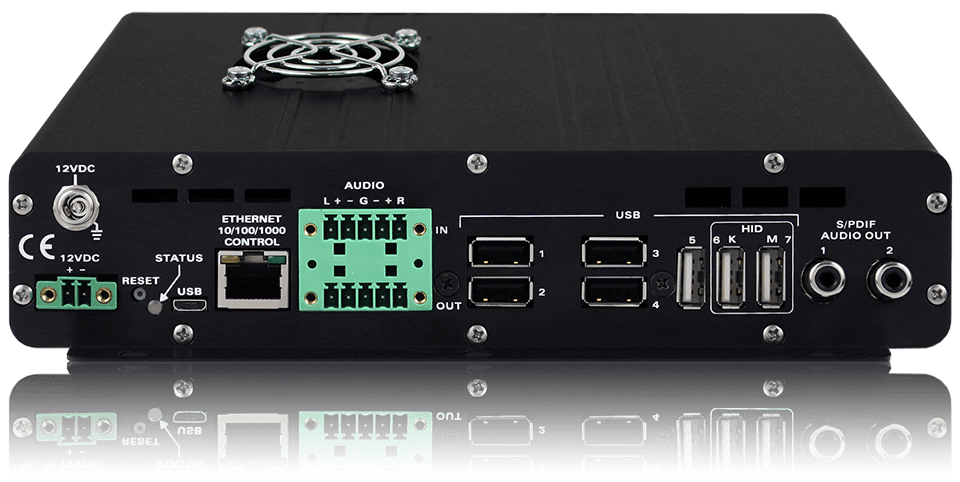 Live AV Transport
Using 10Gbps Ethernet the MMA10G-TRS4K-4x2 encapsulates video, audio, USB HID, USB 2.0 Host or Device (with the -4x2U version), and Ethernet control data at the same time. As a dual transceiver, the MMA10G-TRS4K-4x2 can transmit content from any two of the four local HDMI ins with ultra low latency over its 10GbE links. It can also simultaneously receive content from the two network transports or four local HDMI ins and output any of those two sources to the two HDMI outs.
Versatile Switching Capabilities and More...
The abundance of AV sources that it can handle (i.e. from the two network transports and four local HDMI inputs) along with its two HDMI outputs also makes the MMA10G-TRS4K-4x2 an extremely versatile and compact in-room AV switcher. Customizable EDID tables and scaling on the output paths insure the smoothest handoff between sources and sinks.
Fully Integrated with Evertz' MAGNUM-AV Controller
MMA10G-TRS4K-4x2 is a managed element of the MMA-10G network which is controlled by MAGNUM-AV. MAGNUM-AV simplifies management and control over the system and allows for simple user control using EvertzAV's virtual control panels and touch friendly graphical user interfaces (VUE) or via third-party control systems.
Remote Monitoring
The MMA10G-TRS4K-4x2 can be remotely monitored via the SNMP protocol using Evertz' award winning VistaLINK Pro NMS software suite. VistaLINK allows a single user from a single workstation complete visibility into the operation of the MMA-10G ecosystem. Users can prevent issues from becoming outages quickly and easily using Evertz' VistaLINK Pro.
Product Images



Specifications
MMA10G-TRS4K-4x2
MMA10G-TRS4K-4x2U
Video Inputs
4 HDMI 2.0a
4 HDMI 2.0a
Video Outputs
2 HDMI 2.0a
2 HDMI 2.0a
Supported Resolutions
Up to 4096x2160p @ 60 Hz (4:4:4 color sampling)
Up to 4096x2160p @ 60 Hz (4:4:4 color sampling)
Audio Inputs
1 stereo balanced analog (terminal header)
1 stereo balanced analog (terminal header)
Audio Input Impedance
High impedance
High impedance
Audio Input Level
Line level (+4dBu)
Line level (+4dBu)
Audio Outputs
1 stereo balanced analog (terminal header)
2 S/PDIF
1 stereo balanced analog (terminal header)
2 S/PDIF
Audio Output Impedance
600 Ω
600 Ω
Audio Output Level
Line level (+4dBu)
Line level (+4dBu)
USB
2 HID device ports (type A)
1 HID host port (micro type B)
2 HID device ports (type A)
1 HID host port (micro type B)
5 USB 2.0 ports (type A)
Ethernet Transport
10/100/1000 BASE-T RJ45 Ethernet Port (IEEE 802.3)
10/100/1000 BASE-T RJ45 Ethernet Port (IEEE 802.3)
Ethernet Connector
RJ45
RJ45
10GE Outputs
2 SFP+ (see available accessories)
2 SFP+ (see available accessories)
10G Redundancy
Yes
Yes
Output Scaling
Yes
Yes
HDMI Audio
LPCM (up to 8 channels)
Passthrough support for Dolby Digital®/AC-3, Dolby Digital EX, Dolby Digital Plus, Dolby TrueHD, Dolby Atmos, DTS®, DTS-ES, DTS-HD High Res, DTS-HD Master Audio, DTS:X LPCM (up to 8 channels)
Passthrough support for Dolby Digital®/AC-3, Dolby Digital EX, Dolby Digital Plus, Dolby TrueHD, Dolby Atmos, DTS®, DTS-ES, DTS-HD High Res, DTS-HD Master Audio, DTS:X
SNMP Support
Yes
Yes
In-Band Control
Yes
Yes
OSD Support
No
Yes
Control System
MAGNUM-AV
MAGNUM-AV
Web-Based Configuration
Yes
Yes
Security Compliance
Compliant with applicable DoD Network Devices Security Technical Implementation Guide (STIG) findings
Compliant with applicable DoD Network Devices Security Technical Implementation Guide (STIG) findings
DC Input Voltage
12VDC via supplied power adapter
12VDC via supplied power adapter
Power Supply
110-220V / 50-60Hz AC input; 12VDC / 11.5A output
110-220V / 50-60Hz AC input; 12VDC / 11.5A output
Power Consumption
80W
80W
Ambient Operating Temperature
32° to 104° F (0° to 40° C)
32° to 104° F (0° to 40° C)
Relative Humidity
10% to 90% RH (non-condensing)
10% to 90% RH (non-condensing)
Dimensions (H x W x D)
1.81in x 8.25in x 6.56in (45.97mm x 209.55mm x 166.62mm)
1.81in x 8.25in x 6.56in (45.97mm x 209.55mm x 166.62mm)
Weight
42.26oz (1198 g)
42.61 oz (1208 g)
Ordering Information
| | |
| --- | --- |
| MMA10G-TRS4K-4x2 | Standalone 4K/60 dual HDMI transceiver: quad HDMI input and dual HDMI output, audio, Ethernet, and HID USB |
| MMA10G-TRS4K-4x2U | Standalone 4K/60 dual HDMI transceiver: quad HDMI input and dual HDMI output, audio, Ethernet, HID USB, and USB 2.0 Host and Device |
Available Accessories
| | |
| --- | --- |
| MMA10G-SFP-TR85 | SFP+, 10GE, 850nm, MMF, 50/125, LC/LC |
| MMA10G-SFP2-TR13 | SFP+, 10GE, 1310nm, SMF, 9/125, LC/LC, 10km |
| MMA10G-SFP-SFP-MM3 | 3m SFP+ to SFP+ fiber patch cable, 10GE, AOC, 850nm |