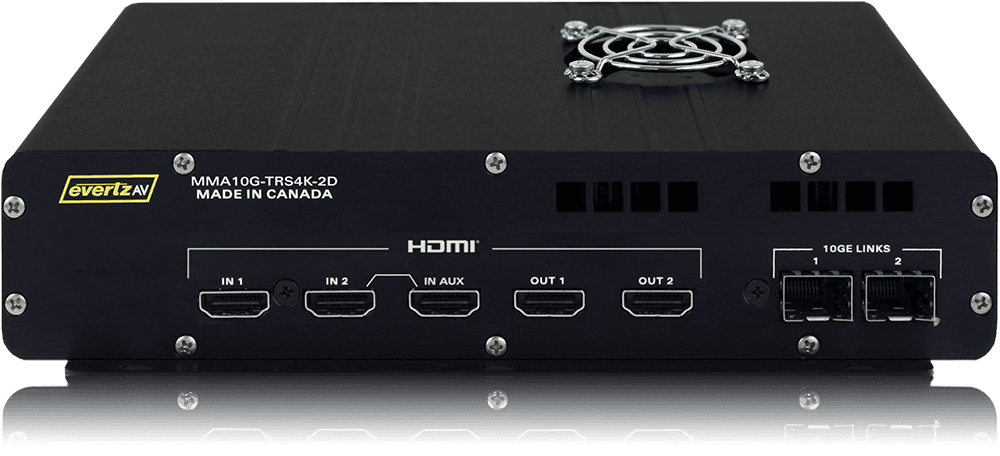 MMA10G-TRS4K-2D
Standalone 4K/60 Dual HDMI Gateway w/ Dolby® and DTS® Decode
Key Features
Two HDMI 2.0A inputs and outputs (software defined)
Resolution up to 4096x2160p @ 60Hz, 4:4:4 color sampling
Dolby® and DTS® complex audio decoding capabilities
Ultra low latency transport over 10GE links
Customizable EDID tables
Full integration with MAGNUM-AV management system
Remote monitoring capabilities using SNMP protocol
Web-based configuration Standalone 4K Gateway
The MMA10G-TRS4K-2D standalone 10GE gateway accepts up to two HDMI inputs or provides up to two HDMI outputs (software defined), in addition to audio and USB HID. The MMA10G-TRS4K-2D is a standalone device which is compact and quiet and can be installed in various in-room locations, including behind monitors, under / inside desks and lecterns, and floor boxes.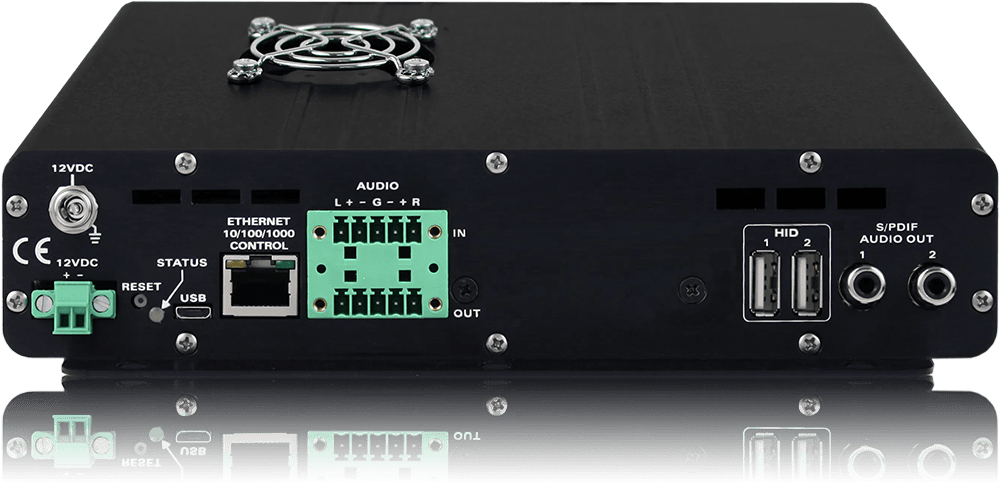 Live AV Transport
Using 10Gbps Ethernet the MMA10G-TRS4K-2D encapsulates video, audio, USB HID, and Ethernet control data at the same time. The MMA10G-TRS4K-2D supports up to two HDMI 2.0A 4K (up to 4096x2160p @ 60Hz, 4:4:4 color sampling) inputs or outputs (software defined) and transports them with ultra low latency over its 10GE links.
Complex Consumer Audio Decoder
The MMA10G-TRS4K-2D can take up to two inbound complex consumer Dolby/DTS audio streams, decode them to discrete audio channels, and then down-mix to stereo pairs. Subsequently, the down-mixed audio and/or original complex audio can be transported over the IP network or output locally via the MMA10G-TRS4K-2D's analog audio or S/PDIF audio outputs. Supported audio codecs include Dolby Digital®/AC-3, Dolby Digital EX, Dolby Digital Plus, Dolby TrueHD, Dolby Atmos, DTS®, DTS-ES, DTS-HD High Res, DTS-HD Master Audio, and DTS:X.
Fully integrated with Evertz' MAGNUM-AV Controller
MMA10G-TRS4K-2D is a managed element of the MMA-10G network which is controlled by MAGNUM-AV. MAGNUM-AV simplifies management and control over the system and allows for simple user control using EvertzAV's virtual control panels and touch friendly graphical user interfaces (VUE) or via third-party control systems.
Remote Monitoring
The MMA10G-TRS4K-2D can be remotely monitored via the SNMP protocol using Evertz' award winning VistaLINK Pro NMS software suite. VistaLINK allows a single user from a single workstation complete visibility into the operation of the MMA-10G ecosystem. Users can prevent issues from becoming outages quickly and easily using Evertz' VistaLINK Pro.
Product Images


Specifications
MMA10G-TRS4K-2D
Video Inputs
2 HDMI 2.0a (software defined)
1 HDMI 2.0a Auxiliary to HDMI Input 2
Video Outputs
2 HDMI 2.0a (software defined)
Supported Resolutions
Up to 4096x2160p @ 60 Hz (4:4:4 color sampling)
Audio Inputs
1 stereo balanced analog (terminal header)
Audio Input Impedance
High impedance
Audio Input Level
Line level (+4dBu)
Audio Outputs
1 stereo balanced analog (terminal header)
2 S/PDIF
Audio Output Impedance
600 Ω
Audio Output Level
Line level (+4dBu)
USB
2 HID device ports (type A)
1 HID host port (micro type B)
Ethernet Transport
10/100/1000 BASE-T RJ45 Ethernet Port (IEEE 802.3)
Ethernet Connector
RJ45
10GE Outputs
2 SFP+ (see available accessories)
10G Redundancy
Yes
Output Scaling
Yes
HDMI Audio
LPCM (up to 8 channels)
Passthrough and decode support for Dolby Digital®/AC-3, Dolby Digital EX, Dolby Digital Plus, Dolby TrueHD, Dolby Atmos, DTS®, DTS-ES, DTS-HD High Res, DTS-HD Master Audio, DTS:X
SNMP Support
Yes
In-Band Control
Yes
Control System
MAGNUM-AV
Web-Based Configuration
Yes
Security Compliance
Compliant with applicable DoD Network Devices Security Technical Implementation Guide (STIG) findings
DC Input Voltage
12VDC via supplied power adapter
Power Supply
100-240V / 47-63Hz AC input; 12VDC / 5A output
Power Consumption
30W
Operating Temperature
32° to 104° F (0° to 40° C)
Relative Humidity
10% to 90% RH (non-condensing)
Dimensions (H x W x D)
1.81in x 8.25in x 6.56in (45.97mm x 209.55mm x 166.62mm)
Weight
32 oz (907.19 g)
Ordering Information
| | |
| --- | --- |
| MMA10G-TRS4K-2D | Standalone 4K/60 HDMI gateway: dual HDMI input or output, audio w/ Dolby and DTS decode, HID USB, and Ethernet |
Available Accessories
| | |
| --- | --- |
| MMA10G-SFP-TR85 | SFP+, 10GE, 850nm, MMF, 50/125, LC/LC |
| MMA10G-SFP2-TR13 | SFP+, 10GE, 1310nm, SMF, 9/125, LC/LC, 10km |
| MMA10G-SFP-SFP-MM3 | 3m SFP+ to SFP+ fiber patch cable, 10GE, AOC, 850nm |
| 3405PS-6HO | Six output primary and redundant auto-ranging power supply, 100V – 240V AC at 50/60Hz |