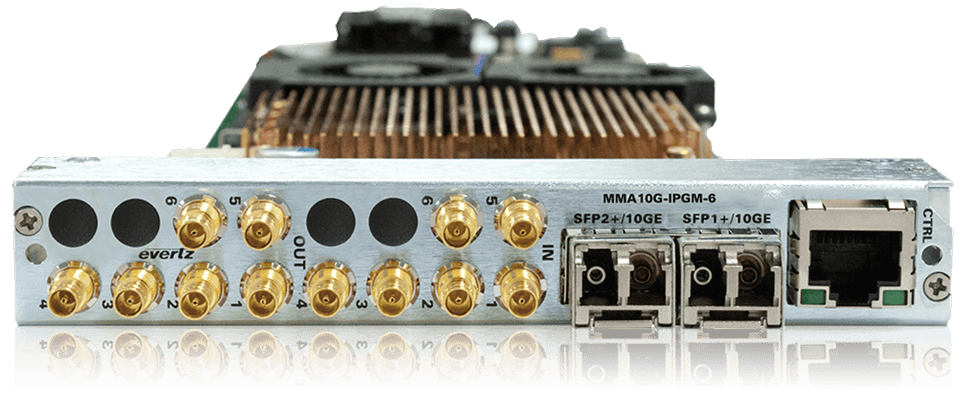 MMA10G-IPGM-6
Modular Bi-directional SDI Gateway
Key Features
Six 3Gbps capable SDI (DIN) inputs
Six 3Gbps capable SDI (DIN) outputs
SMPTE 2048-2, 296M, 274M, and 259M resolution support
High-quality output scaling and frame sync
Support for embedding and de-embedding SDI audio
Full integration with MAGNUM-AV management system
Remote monitoring capabilities using SNMP protocol
Web-based configuration The MMA10G-IPGM-6 provides a bulk SDI gateway for both capturing and providing SDI video signals. The MMA10G-IPGM-6 offers up to six 3Gbps capable SDI inputs and six 3Gbps capable SDI outputs using two 10GE ports. What makes the IPGM-6 unique is its built-in scaling capability, allowing the IPGM-6 to convert any resolution input or output to the correct SMPTE raster size required.
The MMA10G-IPGM-6 supports multiple resolutions within the SMPTE 2048-2, 296M, 274M, and 259M standards. Support for de-embedding and embedding audio is also possible using the MMA10G-IPGM-6.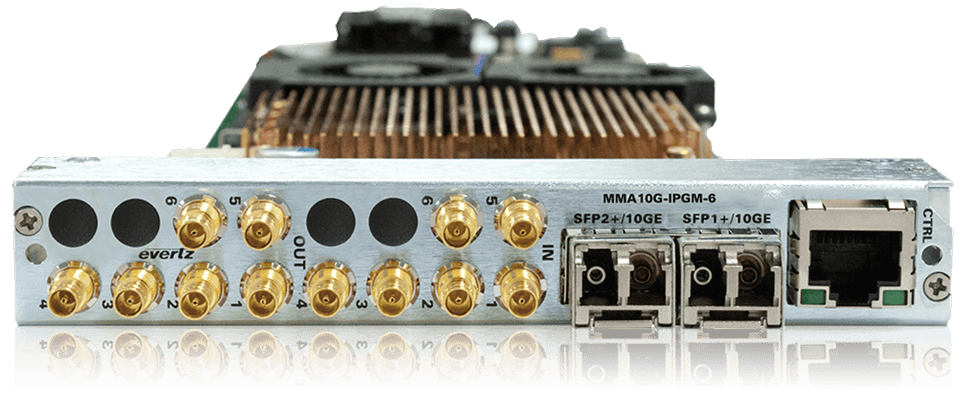 Reliable AV Transport
Using 10Gbps Ethernet the MMA10G-IPGM-6 simultaneously encapsulates and de-encapsulates SDI video with embedded audio from the MMA-10G switch core. The MMA10G-IPGM-6 is fully compatible with all other gateways and pooled resources used in EvertzAV's MMA-10G ecosystem.
High-Quality Scaling and Frame Sync
EvertzAV's MMA10G-IPGM-6 offers the ability to scale the inbound video from the 10GE link to match the resolution required for the SDI output. The MMA10G-IPGM-6 employs Evertz' latest in scaling technology with high quality algorithms providing the best picture quality possible. The MMA10G-IPGM-6 also supports frame sync capabilities that can be locked to genlock.
Remote Monitoring
The MMA10G-IPGM-6 can be remotely monitored via the SNMP protocol using Evertz' award winning VistaLINK Pro NMS software suite. VistaLINK allows a single user from a single workstation complete visibility into the operation of the MMA-10G ecosystem. Users can prevent issues from becoming outages quickly and easily using Evertz' VistaLINK Pro.
Product Images

Specifications
MMA10G-IPGM-6
Video Inputs
6 SDI (DIN)
Video Outputs
6 SDI (DIN)
Supported Resolutions
SMPTE 259M: SMPTE 296M, Y'CbCr 4:2:2, 10-bit:

720p24, 720p24/1.001, 720p25, 720p30, 720p30/1.001, 720p50, 720p60, 720p60/1.001

SMPTE 274M, Y'CbCr 4:2:2, 10-bit:

1080i50, 1080i60, 1080i60/1.001
1080sF24, 1080sF24/1.001, 1080sF25, 1080sF30, 1080sF30/1.001
1080p24, 1080p24/1.001, 1080p25, 1080p/30, 1080p30/1.001
1080p50, 1080p60, 1080p60/1.001

SMPTE 2048-2, Y'CbCr 4:2:2, 10-bit:

2K1080i50, 2K1080i60, 2K1080i60/1.001
2K1080p24, 2K1080p24/1.001, 2K1080p25, 2K1080p30*, 2K1080p30/1.001*
2K1080p50, 2K1080p60, 2K1080p60/1.001

*Supports only two groups of audio due to narrow Horizontal Ancillary (HANC) data space.
10GE Ports
2 SFP+ (see available accessories)
Output Scaling
Yes
SDI Audio
Yes
SNMP Support
Yes
Control System
MAGNUM-AV
In-Band Control
No (uses 7800FC)
Security Compliance
Compliant with applicable DoD Network Devices Security Technical Implementation Guide (STIG) findings
Modular Design
7800 series device, installed in 7800FR
Slots
2
DC Input Voltage
12VDC provided by frame
Power Consumption
40W
Ambient Operating Temperature
32° to 104° F (0° to 40° C)
Relative Humidity
10% to 90% RH (non-condensing)
Ordering Information
| | |
| --- | --- |
| MMA10G-IPGM-6 | Modular bi-directional SDI gateway with high quality scaling functionality |
Available Accessories
| | |
| --- | --- |
| 7800FR-QT | Modular quiet frame, 3RU, 15 slots, dual PS |
| 7801FR | Modular frame, 1RU, 4 slots, dual PS |
| 7800FC | Modular frame controller for 3RU (required for control) |
| MMA10G-SFP-TR85 | SFP+, 10GE, 850nm, MMF, 50/125, LC/LC |
| MMA10G-SFP2-TR13 | SFP+, 10GE, 1310nm, SMF, 9/125, LC/LC, 10km |
| MMA10G-SFP-SFP-MM3 | 3m SFP+ to SFP+ fiber patch cable, 10GE, AOC, 850nm |