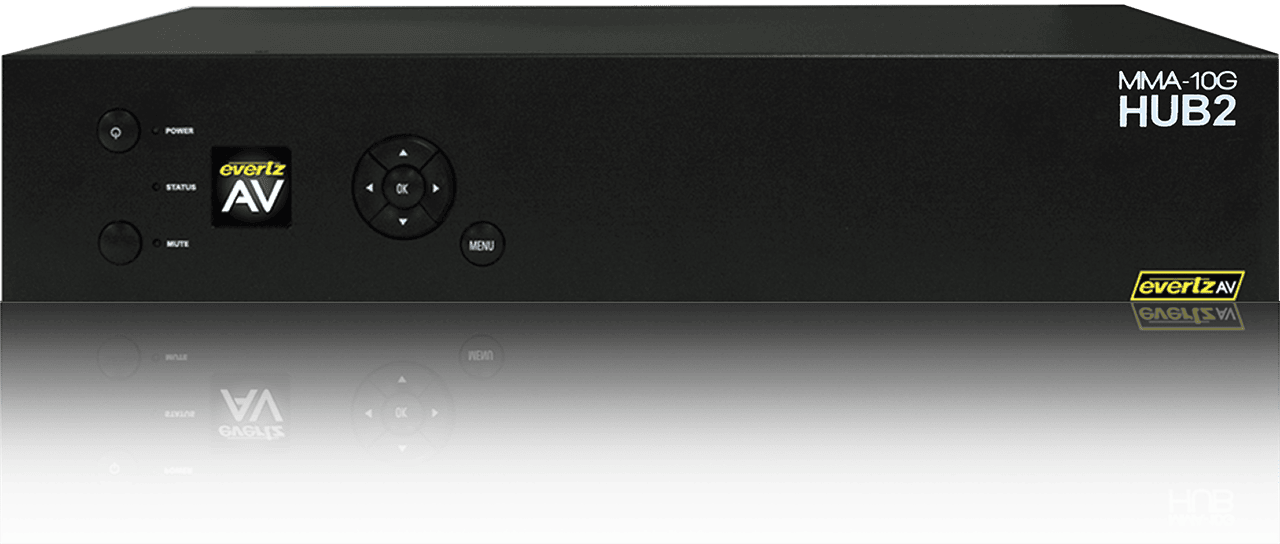 MMA10G-HUB2
In Room AV Switch
Key Features
In-room AV switch with up to twelve video inputs and four outputs
Resolutions up to 3840x2160p @ 30Hz
HDBaseT certified
Multiple models allowing for various HDBaseT™ and HDMI input/output configurations
Support for up to four 3G-SDI inputs
Optional Dante™ audio support available
Multiple 10GE ports for integration into EvertzAV' SDVN platform The MMA10G-HUB2 is a 4K in-room audio and video switcher that leverages Evertz' award winning SDVN (Software Defined Video Networking) technology. Evertz' MMA10G-HUB2 is a powerful HDMI, HDBaseT, and SDI audio/video switch with 10GE network ports enabling local routing to converge within the larger facility. The MMA10G-HUB2 can easily connect a single room to a facility, thereby unleashing a world of possibilities for collaboration, resource sharing, and connectivity.

HDBaseT®, HDMI™, SDI, & Dante™
The MMA10G-HUB2 offers up to 12 local video inputs and 4 local video outputs. The MMA10G-HUB2 can be ordered with 4/8 HDMI and 2/4 SDI inputs or with a combination of 2/4 HDBaseT, 2/4 HDMI, and 2/4 SDI inputs (see Ordering Information). Discrete analog audio is offered along with the ability to route HDMI audio, and additionally the MMA10G-HUB2 offers the option to include a Dante audio networking interface.
4K / UHD & EDID
The MMA10G-HUB2 offers up to UHD (3840x2160p @ 30Hz) resolutions on 2 of 4 or 4 of 8 inputs (depending on the model) and on all outputs. The MMA10G-HUB2 supports the latest in EDID technology and provides user friendly setup and management of EDID table formats guaranteeing seamless integration into any project.
Feature-Rich Web Interface & Simple API
The MMA10G-HUB2's feature-rich web interface allows simple and intuitive configuration and setup of the product. A simple API allows for easy third-party control over the MMA10G-HUB2 for straightforward integration into a room's control system. The MMA10G-HUB2 also uses SNMP to report faults, such as loss of audio or video, and can send those faults to Evertz' VistaLINK Pro NMS software.
Model Comparison
Model
Video Inputs
Video Outputs
10GE Connections
Audio
MMA10G-HUB2-4x2-2
4 HDMI (1.4) and 2 SDI
Inputs 1, 3 = 4K
2 HDMI (1.4)
All outputs = 4K
2x10GE
4 Analog In, 2 Analog Out
MMA10G-HUB2-4x2A-2
4 HDMI (1.4), and 2 SDI
Inputs 1, 3 = 4K
2 HDMI (1.4)
All outputs = 4K
2x10GE
4 Analog In, 2 Analog Out
32x32 Dante Audio
MMA10G-HUB2-8x4-4
8 HDMI (1.4) and 4 SDI
Inputs 1, 3, 5, 7 = 4K
4 HDMI (1.4)
All outputs = 4K
4x10GE
4 Analog In, 2 Analog Out
MMA10G-HUB2-8x4A-4
8 HDMI (1.4) and 4 SDI
Inputs 1, 3, 5, 7 = 4K
4 HDMI (1.4)
All outputs = 4K
4x10GE
4 Analog In, 2 Analog Out
32x32 Dante Audio
MMA10G-HUB2-22x11-2
2 HDBaseT, 2 HDMI (1.4), and 2 SDI
Inputs 1, 3 = 4K
1 HDMI (1.4), 1 HDBaseT
All outputs = 4K
2x10GE
4 Analog In, 2 Analog Out
MMA10G-HUB2-22x11A-2
2 HDBaseT, 2 HDMI (1.4), and 2 SDI
Inputs 1, 3 = 4K
1 HDBaseT, 1 HDMI (1.4)
All outputs = 4K
2x10GE
4 Analog In, 2 Analog Out
32x32 Dante Audio
MMA10G-HUB2-44x22-4
4 HDBaseT, 4 HDMI (1.4), and 4 SDI
Inputs 1, 3, 5, 7 = 4K
2 HDBaseT, 2 HDMI (1.4)
All outputs = 4K
4x10GE
4 Analog In, 2 Analog Out
MMA10G-HUB2-44x22A-4
4 HDBaseT, 4 HDMI (1.4), and 4 SDI
Inputs 1, 3, 5, 7 = 4K
2 HDBaseT, 2 HDMI (1.4)
All outputs = 4K
4x10GE
4 Analog In, 2 Analog Out
32x32 Dante Audio
Product Images


Specifications (HDMI Models)
MMA10G-HUB2-4x2-2
MMA10G-HUB2-4x2A-2
MMA10G-HUB2-8x4-4
MMA10G-HUB2-8x4A-4
Video Inputs
and Supported Resolutions
4 HDMI 1.4 (Inputs 1, 3 up to 3840x2160 @ 30 Hz and inputs 2, 4
up to 1920x1200 @ 60 Hz)
2 SDI (SMPTE 259M/292M/424M-A) 4 HDMI 1.4 (Inputs 1, 3 up to 3840x2160 @ 30 Hz and inputs 2, 4
up to 1920x1200 @ 60 Hz)
2 SDI (SMPTE 259M/292M/424M-A) 8 HDMI 1.4 (Inputs 1, 3, 5, 7 up to 3840x2160 @ 30 Hz and inputs 2, 4, 6, 8 up to 1920x1200 @ 60 Hz)
4 SDI (SMPTE 259M/292M/424M-A)
8 HDMI 1.4 (Inputs 1, 3, 5, 7 up to 3840x2160 @ 30 Hz and inputs 2, 4, 6, 8 up to 1920x1200 @ 60 Hz)
4 SDI (SMPTE 259M/292M/424M-A)
Video Outputs and Supported Resolutions
2 HDMI 1.4
(All outputs up to 3840x2160 @ 30 Hz)
2 HDMI 1.4
(All outputs up to 3840x2160 @ 30 Hz)
4 HDMI 1.4
(All outputs up to 3840x2160 @ 30 Hz)
4 HDMI 1.4
(All outputs up to 3840x2160 @ 30 Hz)
Line Level Audio Inputs
4 stereo balanced (phoenix connector)
4 stereo balanced (phoenix connector)
4 stereo balanced (phoenix connector)
4 stereo balanced (phoenix connector)
Mic Level Audio Inputs
2 stereo balanced (phoenix connector)
2 stereo balanced (phoenix connector)
2 stereo balanced (phoenix connector)
2 stereo balanced (phoenix connector)
Audio Input Impedance
20 kΩ / 48kHz
20 kΩ / 48 kHz
20 kΩ / 48kHz
20 kΩ / 48 kHz
Line Level Audio Outputs
2 stereo balanced (phoenix connector)
2 stereo balanced (phoenix connector)
2 stereo balanced (phoenix connector)
2 stereo balanced (phoenix connector)
Speaker Output
1 stereo (phoenix connector)
1 stereo (phoenix connector)
1 stereo (phoenix connector)
1 stereo (phoenix connector)
Speaker Output Power
2x18W into 4 Ω, 2x12W into 8 Ω
2x18W into 4 Ω, 2x12W into 8 Ω
2x18W into 4 Ω, 2x12W into 8 Ω
2x18W into 4 Ω, 2x12W into 8 Ω
Dante Audio
N/A
32x32 mono channel
N/A
32x32 mono channel
Audio Output Impedance
>5 kΩ / 48 kHz
>5 kΩ / 48 kHz
>5 kΩ / 48 kHz
>5 kΩ / 48 kHz
Ethernet Transport
1x 10/100/1000Base-T RJ45 Ethernet Port (IEEE 802.3)
(for Control)
3x 10/100/1000Base-T RJ45 Ethernet Ports (IEEE 802.3)
(1x Control and 2x Dante)
1x 10/100/1000Base-T RJ45 Ethernet Port (IEEE 802.3)
(for Control)
3x 10/100/1000Base-T RJ45 Ethernet Ports (IEEE 802.3)
(1x Control and 2x Dante)
10GE Ports
2 SFP+ (see available accessories)
2 SFP+ (see available accessories)
4 SFP+ (see available accessories)
4 SFP+ (see available accessories)
General Purpose Inputs
2 (100V max)
2 (100V max)
2 (100V max)
2 (100V max)
General Purpose Outputs
2 (100mA max)
2 (100mA max)
2 (100mA max)
2 (100mA max)
Control Protocols
SNMP and Quartz over IP
SNMP and Quartz over IP
SNMP and Quartz over IP
SNMP and Quartz over IP
Control System
MAGNUM-AV
MAGNUM-AV
MAGNUM-AV
MAGNUM-AV
Security Compliance
Compliant with applicable DoD Network Devices Security Technical Implementation Guide (STIG) findings
Compliant with applicable DoD Network Devices Security Technical Implementation Guide (STIG) findings
Compliant with applicable DoD Network Devices Security Technical Implementation Guide (STIG) findings
Compliant with applicable DoD Network Devices Security Technical Implementation Guide (STIG) findings
Other Features
HDMI Audio, Output Scaling, Web-Based Configuration, In-Band Control, Front Panel Control
HDMI Audio, Output Scaling, Web-Based Configuration, In-Band Control, Front Panel Control
HDMI Audio, Output Scaling, Web-Based Configuration, In-Band Control, Front Panel Control
HDMI Audio, Output Scaling, Web-Based Configuration, In-Band Control, Front Panel Control
Voltage
100-240V / 50-60Hz
100-240V / 50-60Hz
100-240V / 50-60Hz
100-240V / 50-60Hz
Connector
IEC 60320 C14
IEC 60320 C14
IEC 60320 C14
IEC 60320 C14
Power Consumption
100W
100W
100W
100W
Ambient Operating Temperature
32° to 104° F (0° to 40° C)
32° to 104° F (0° to 40° C)
32° to 104° F (0° to 40° C)
32° to 104° F (0° to 40° C)
Relative Humidity
10% - 90% RH (non-condensing)
10% - 90% RH (non-condensing)
10% - 90% RH (non-condensing)
10% - 90% RH (non-condensing)
Dimensions (H x W x D)
3.5in x 17.25in x 9.25in (89mm x 438mm x 235mm) 19in wide rack mountable with rack ears
3.5in x 17.25in x 9.25in (89mm x 438mm x 235mm) 19in wide rack mountable with rack ears
3.5in x 17.25in x 9.25in (89mm x 438mm x 235mm) 19in wide rack mountable with rack ears
3.5in x 17.25in x 9.25in (89mm x 438mm x 235mm) 19in wide rack mountable with rack ears
Weight
160 oz (4535.92 g)
160 oz (4535.92 g)
160 oz (4535.92 g)
160 oz (4535.92 g)
Ordering Information
| | |
| --- | --- |
| MMA10G-HUB2-4x2-2 | 4K/UHD in-room AV switch: 4x HDMI and 2 SDI inputs, 2x HDMI outputs, 2x 10GE ports |
| MMA10G-HUB2-4x2A-2 | 4K/UHD in-room AV switch: 4x HDMI and 2 SDI inputs, 2x HDMI outputs, 2x 10GE ports, 32x32 Dante audio |
| MMA10G-HUB2-8x4-4 | 4K/UHD in-room AV switch: 8x HDMI and 4 SDI inputs, 4x HDMI outputs, 4x 10GE ports |
| MMA10G-HUB2-8x4A-4 | 4K/UHD in-room AV switch: 8x HDMI and 4 SDI inputs, 4x HDMI outputs, 4x 10GE ports, 32x32 Dante audio |
Available Accessories
| | |
| --- | --- |
| MMA10G-SFP-TR85 | SFP+, 10GE, 850nm, MMF, 50/125, LC/LC |
| MMA10G-SFP2-TR13 | SFP+, 10GE, 1310nm, SMF, 9/125, LC/LC, 10Km |
| MMA10G-SFP-SFP-MM3 | 3m SFP+ to SFP+ fiber patch cable, 10GE, AOC, 850nm |
Specifications (HDBaseT and HDMI Models)
MMA10G-HUB2-22x11-2
MMA10G-HUB2-22x11A-2
MMA10G-HUB2-44x22-4
MMA10G-HUB2-44x22A-4
Video Inputs
and Supported Resolutions
2 HDBaseT (Inputs 1, 3 up to 3840x2160 @ 30 Hz)
2 HDMI 1.4 (Inputs 2, 4 up to 1920x1200 @ 60 Hz)
2 SDI (SMPTE 259M/292M/424M-A)
2 HDBaseT (Inputs 1, 3 up to 3840x2160 @ 30 Hz)
2 HDMI 1.4 (Inputs 2, 4 up to 1920x1200 @ 60 Hz)
2 SDI (SMPTE 259M/292M/424M-A)
4 HDBaseT (Inputs 1, 3, 5, 7 up to 3840x2160 @ 30 Hz)
4 HDMI 1.4 (Inputs 2, 4, 6, 8 up to 1920x1200 @ 60 Hz)
4 SDI (SMPTE 259M/292M/424M-A)
4 HDBaseT (Inputs 1, 3, 5, 7 up to 3840x2160 @ 30 Hz)
4 HDMI 1.4 (Inputs 2, 4, 6, 8 up to 1920x1200 @ 60 Hz)
4 SDI (SMPTE 259M/292M/424M-A)
Video Outputs and Supported Resolutions
1 HDBaseT
1 HDMI 1.4
(All outputs up to 3840x2160 @ 30 Hz)
1 HDBaseT
1 HDMI 1.4
(All outputs up to 3840x2160 @ 30 Hz)
2 HDBaseT
2 HDMI 1.4
(All outputs up to 3840x2160 @ 30 Hz)
2 HDBaseT
2 HDMI 1.4
(All outputs up to 3840x2160 @ 30 Hz)
Line Level Audio Inputs
4 stereo balanced (phoenix connector)
4 stereo balanced (phoenix connector)
4 stereo balanced (phoenix connector)
4 stereo balanced (phoenix connector)
Mic Level Audio Inputs
2 stereo balanced (phoenix connector)
2 stereo balanced (phoenix connector)
2 stereo balanced (phoenix connector)
2 stereo balanced (phoenix connector)
Audio Input Impedance
20 kΩ / 48 kHz
20 kΩ / 48 kHz
20 kΩ / 48 kHz
20 kΩ / 48 kHz
Line Level Audio Outputs
2 stereo balanced (phoenix connector)
2 stereo balanced (phoenix connector)
2 stereo balanced (phoenix connector)
2 stereo balanced (phoenix connector)
Speaker Output
1 stereo (phoenix connector)
1 stereo (phoenix connector)
1 stereo (phoenix connector)
1 stereo (phoenix connector)
Speaker Output Power
2x18W into 4 Ω, 2x12W into 8 Ω
2x18W into 4 Ω, 2x12W into 8 Ω
2x18W into 4 Ω, 2x12W into 8 Ω
2x18W into 4 Ω, 2x12W into 8 Ω
Dante Audio
N/A
32x32 mono channel
N/A
32x32 mono channel
Audio Output Impedance
>5 kΩ / 48 kHz
>5 kΩ / 48 kHz
>5 kΩ / 48 kHz
>5 kΩ / 48 kHz
Ethernet Transport
1x 10/100/1000Base-T RJ45 Ethernet Port (IEEE 802.3)
(for Control)
3x 10/100/1000Base-T RJ45 Ethernet Ports (IEEE 802.3)
(1x Control and 2x Dante)
1x 10/100/1000Base-T RJ45 Ethernet Port (IEEE 802.3)
(for Control)
3x 10/100/1000Base-T RJ45 Ethernet Ports (IEEE 802.3)
(1x Control and 2x Dante)
10GE Ports
2 SFP+ (see available accessories)
2 SFP+ (see available accessories)
4 SFP+ (see available accessories)
4 SFP+ (see available accessories)
General Purpose Inputs
2 (100V max)
2 (100V max)
2 (100V max)
2 (100V max)
General Purpose Outputs
2 (100mA max)
2 (100mA max)
2 (100mA max)
2 (100mA max)
Control Protocols
SNMP and Quartz over IP
SNMP and Quartz over IP
SNMP and Quartz over IP
SNMP and Quartz over IP
Control System
MAGNUM-AV
MAGNUM-AV
MAGNUM-AV
MAGNUM-AV
Security Compliance
Compliant with applicable DoD Network Devices Security Technical Implementation Guide (STIG) findings
Compliant with applicable DoD Network Devices Security Technical Implementation Guide (STIG) findings
Compliant with applicable DoD Network Devices Security Technical Implementation Guide (STIG) findings
Compliant with applicable DoD Network Devices Security Technical Implementation Guide (STIG) findings
Other Features
HDMI Audio, Output Scaling, Web-Based Configuration, In-Band Control, Front Panel Control
HDMI Audio, Output Scaling, Web-Based Configuration, In-Band Control, Front Panel Control
HDMI Audio, Output Scaling, Web-Based Configuration, In-Band Control, Front Panel Control
HDMI Audio, Output Scaling, Web-Based Configuration, In-Band Control, Front Panel Control
Voltage
100-240V / 50-60Hz
100-240V / 50-60Hz
100-240V / 50-60Hz
100-240V / 50-60Hz
Connector
IEC 60320 C14
IEC 60320 C14
IEC 60320 C14
IEC 60320 C14
Power Consumption
100W
100W
100W
100W
Ambient Operating Temperature
32° to 104° F (0° to 40° C)
32° to 104° F (0° to 40° C)
32° to 104° F (0° to 40° C)
32° to 104° F (0° to 40° C)
Relative Humidity
10% - 90% RH (non-condensing)
10% - 90% RH (non-condensing)
10% - 90% RH (non-condensing)
10% - 90% RH (non-condensing)
Dimensions (H x W x D)
3.5in x 17.25in x 9.25in (89mm x 438mm x 235mm) 19in wide rack mountable with rack ears
3.5in x 17.25in x 9.25in (89mm x 438mm x 235mm) 19in wide rack mountable with rack ears
3.5in x 17.25in x 9.25in (89mm x 438mm x 235mm) 19in wide rack mountable with rack ears
3.5in x 17.25in x 9.25in (89mm x 438mm x 235mm) 19in wide rack mountable with rack ears
Weight
160 oz (4535.92 g)
160 oz (4535.92 g)
160 oz (4535.92 g)
160 oz (4535.92 g)
Ordering Information
| | |
| --- | --- |
| MMA10G-HUB2-22x11-2 | 4K/UHD in-room AV switch: 2x HDMI, 2x HDBaseT, and 2 SDI inputs, 1x HDMI and 1x HDBaseT outputs, 2x 10GE ports |
| MMA10G-HUB2-22x11A-2 | 4K/UHD in-room AV switch: 2x HDMI, 2x HDBaseT, and 2 SDI inputs , 1x HDMI and 1x HDBaseT outputs, 2x 10GE ports, 32x32 Dante audio |
| MMA10G-HUB2-44x22-4 | 4K/UHD in-room AV switch: 4x HDMI, 4x HDBaseT, and 4 SDI inputs, 2x HDMI and 2x HDBaseT outputs, 4x 10GE ports |
| MMA10G-HUB2-44x22A-4 | 4K/UHD in-room AV switch: 4x HDMI, 4x HDBaseT, and 4 SDI inputs , 2x HDMI and 2x HDBaseT outputs, 4x 10GE ports, 32x32 Dante audio |
Available Accessories
| | |
| --- | --- |
| MMA10G-SFP-TR85 | SFP+, 10GE, 850nm, MMF, 50/125, LC/LC |
| MMA10G-SFP2-TR13 | SFP+, 10GE, 1310nm, SMF, 9/125, LC/LC, 10Km |
| MMA10G-SFP-SFP-MM3 | 3m SFP+ to SFP+ fiber patch cable, 10GE, AOC, 850nm |