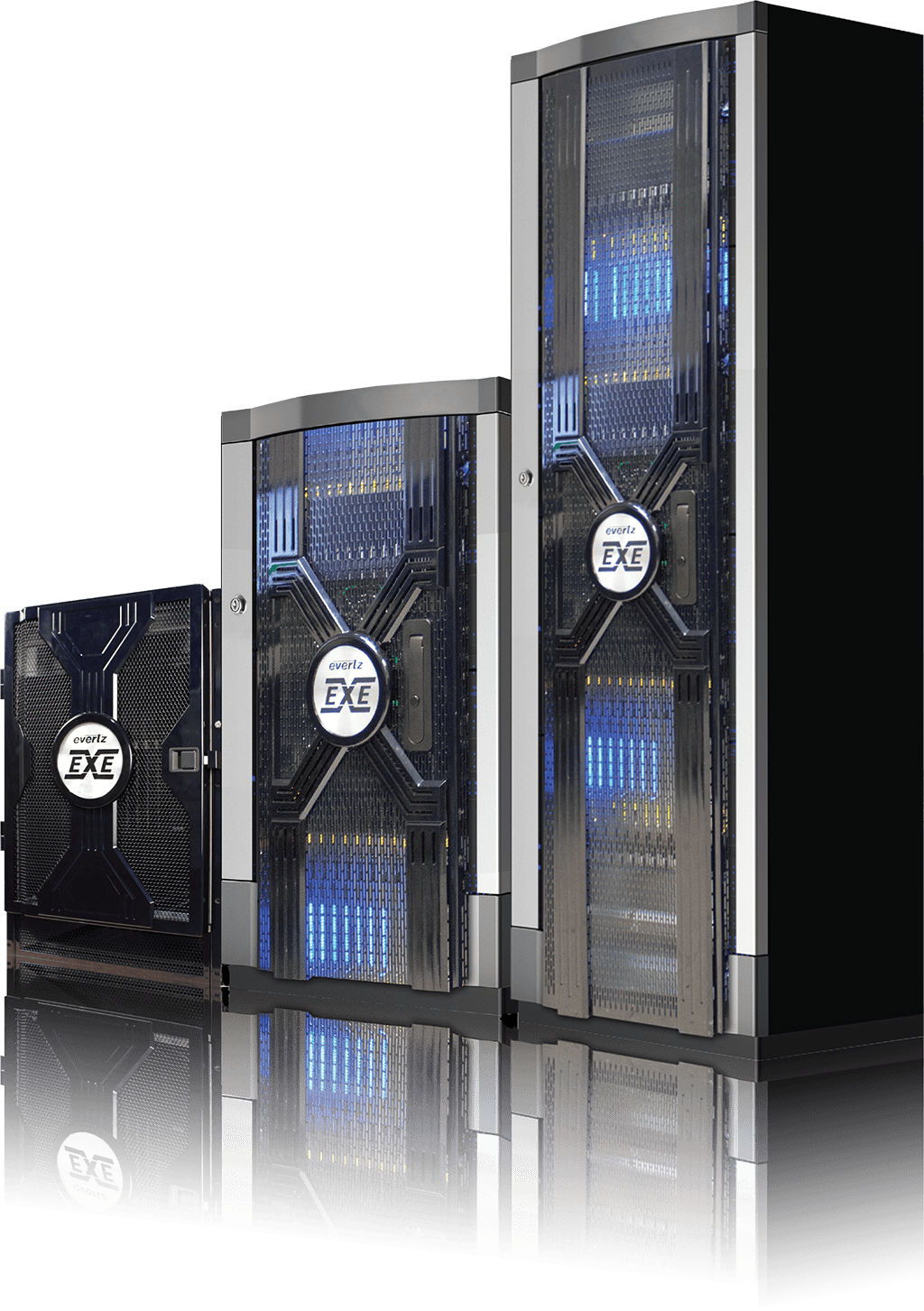 MMA10G-EXE Series
High Capacity Switch Fabrics
Key Features
Scalable 10/25/100GbE switch fabric
From 64 up to 2048 10GbE/25GbE ports possible
Multiple size chassis to meet project scale
Line rate bi-direction 10Gbs/25Gbs on every port per port at same time
Up to 102Tb/s switch capacity in 46RU EXE
Secure integrated control via MAGNUM-AV
NIAP listed and Common Criteria certified models available The MMA10G-EXE is the core of EvertzAV's SDVN solutions. The MMA10G-EXE series of high capacity switch fabrics enables IP transition with unmatched flexibility and scalability. The MMA10G-EXE provides up to 102Tb/s (in 36RU) of switch capacity with up to 2,048x 25GbE ports in a single frame. The 26RU and 16RU frames have switching capacities of 51Tb/s (1,024x 25GbE ports) and 25Tb/s (512x 25GbE ports) respectively when using 25GbE.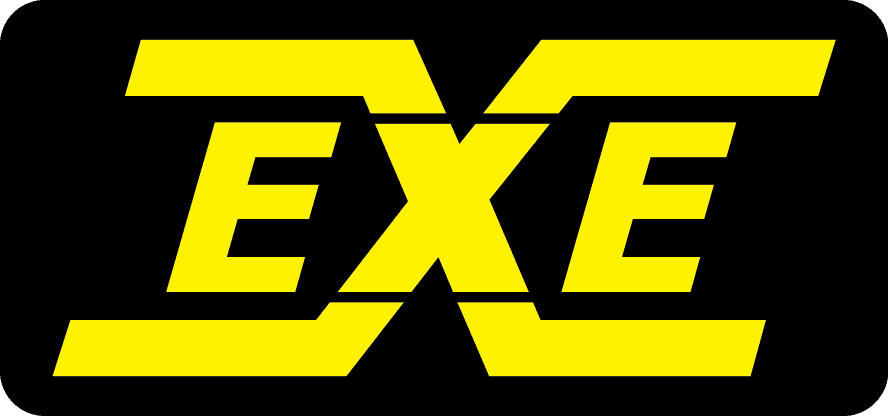 Designed for High Capacity Switching
The MMA10G-EXE supports up to 102Tb/s of switching capacity. By implementing an independent data path, the MMA10G-EXE supports 10GbE, 25GbE, and 100GbE interfaces that can carry multiple uncompressed video signals.
Extensive Redundant Crosspoint Protection
The MMA10G-EXE supports manual or automatic re-routing of individual signals with quality verification prior to switching to the redundant path.
I/O Flexibility & Scalability
The inspired modular approach of the MMA10G-EXE's design provides excellent in-service expansion capabilities. Using line cards that have blocks of 64x 10GbE/25GbE ports, the MMA10G-EXE can seamlessly scale from a 64x 10GbE/25GbE port to a 2,048x 10GbE/25GbE port switch. The MMA10G-EXE supports varying types of QSFP port interfaces. For aggregation links between EXEs, the MMA10G-EXE supports 100GbE interfaces.
NIAP Listed and Common Criteria Certified
EvertzAV's MMA10G-EXE is available as a National Information Assurance Partnership (NIAP) listed and Common Criteria certified series of products. The evaluation for the MMA10G-EXE, was carried out in accordance with the Common Criteria Evaluation and Validation Scheme (CCEVS). The criteria against which the MMA10G-EXE was evaluated are described in the Common Criteria for Information Technology Security Evaluation, Version 3.1 Rev 4. For more information about NIAP and Common Criteria certification, visit the NIAP Common Criteria websites.
Product Images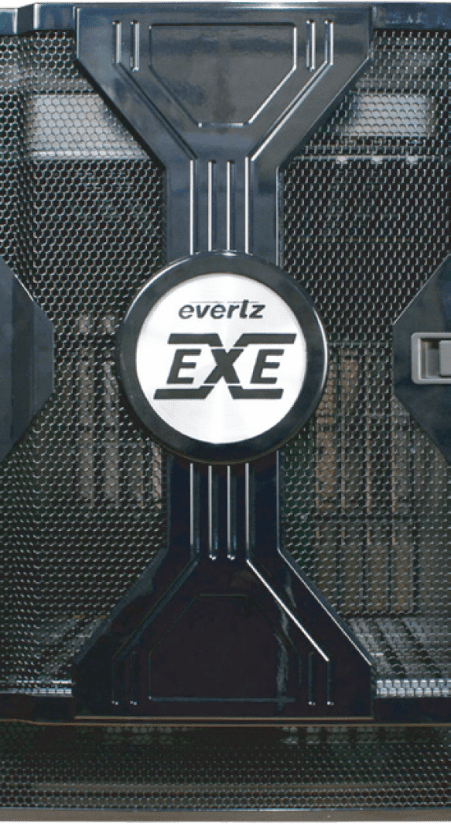 Specifications
| | MMA10G-EXE16 | MMA10G-EXE26 | MMA10G-EXE36 |
| --- | --- | --- | --- |
| Height | 28in (711.2mm) 16RU | 45.5in (1155.7mm) 26RU | 63in (1600.2mm) 36RU |
| Width | 19in (483mm) in rack mount | 19in (483mm) in rack mount | 19in (483mm) in rack mount |
| Depth | 32in (813mm) over hinges and QSFP | 32in (813mm) over hinges and QSFP | 32in (813mm) over hinges and QSFP |
| Weight | 255 lbs (115 kg) fully loaded | 650 lbs (295 kg) fully loaded | 1100 lbs (499 kg) fully loaded |
| Ambient Operating Temperature | 32° to 104° F (0° to 40° C) | 32° to 104° F (0° to 40° C) | 32° to 104° F (0° to 40° C) |
| Cooling | Fan cooled, front to top | Fan cooled, front to top/bottom/sides | Fan cooled, front to top/bottom/sides |
| # of Interfaces | 16x QSFP28 cages per line card module | 16x QSFP28 cages per line card module | 16x QSFP28 cages per line card module |
| Control | 2x 1GbE RJ-45 SFP | 2x 1GbE RJ-45 SFP | 2x 1GbE RJ-45 SFP |
| Electrical Configuration | Up to 4 load sharing PS modules in 1RU FR. Up to 8x FRs can be used for redundancy. | Up to 4 load sharing PS modules in 1RU FR. Up to 8x FRs can be used for redundancy. | Up to 4 load sharing PS modules in 1RU FR. Up to 8x FRs can be used for redundancy. |
| Electrical Connection | 2x inputs per frame | 2x inputs per frame | 2x inputs per frame |
| PS Input Voltage | Auto-ranging 200 | 240V nominal, 50/60Hz | Auto-ranging 200 | 240V nominal, 50/60Hz | Auto-ranging 200 | 240V nominal, 50/60Hz |
| PS Maximum Input Current | 15 A (@ 200V AC) per PS @ 2500W load | 15 A (@ 200V AC) per PS @ 2500W load | 15 A (@ 200V AC) per PS @ 2500W load |
| PS Output Voltage | 48 VDC | 48 VDC | 48 VDC |
| PS Output Power | 2500 W per PS module | 2500 W per PS module | 2500 W per PS module |
| FR Typical Input Power | 4.6kW for fully loaded 512x ports of 25GbE full bandwidth | 9.5kW for fully loaded 1024x ports of 25GbE full bandwidth | 18.5kW for fully loaded 2048x ports of 25GbE full bandwidth |
Ordering Information
| | |
| --- | --- |
| MMA10G-EXE16-XXX | High density scalable switch fabric: 16RU with up to 512 ports in 64 port increments |
| MMA10G-EXE16-XXX-R | Same as above but with redundancy – XC, FC |
| MMA10G-EXE16-XXX-R-CC | Same as –R above but Common Criteria version |
| MMA10G-EXE26-XXX | High density scalable switch fabric: 26RU with up to 1024 ports in 64 port increments |
| MMA10G-EXE26-XXX-R | Same as above but with redundancy – XC, FC |
| MMA10G-EXE26-XXX-R-CC | Same as –R above but Common Criteria version |
| MMA10G-EXE36-XXX | High density scalable switch fabric: 36RU with up to 2048 ports in 64 port increments |
| MMA10G-EXE36-XXX-R | Same as above but with redundancy – XC, FC |
| MMA10G-EXE36-XXX-R-CC | Same as –R above but Common Criteria version |
Available Accessories
| | |
| --- | --- |
| MMA10G-QSFP-MM-A | MMA10G QSFP module multi-mode (850nm). Provides up to 4x 10GE ports using QSFP fiber breakout cable. |
| MMA10G-QSFP-LR | MMA10G QSFP module single-mode (1310nm). Provides up to 4x 10GE ports using QSFP fiber breakout cable. |
| MMA10G-MTP-LC8-SM10 | MTP/APC to 8x LC/UPC single-mode, 10m fiber cable. To be used with MMA10G-QSFP-LR module for adapting MTP connector to 8x LC, or 4x 10GE LC connections. |
| MMA10G-MTP-LC8-MM10 | MTP/APC to 8x LC/UPC multi-mode 10m fiber cable. To be used with MMA10G-QSFP-MM-A module for adapting MTP connector to 8x LC, or 4x 10GE LC connections. |
| MMA10G-MTP-MTP-SM10 | MTP/APC to MTP/APC single-mode 10m fiber cable. To be used with MMA10G-QSFP-LR module. |
| MMA10G-MTP-MTP-MM10 | MTP/UPC to MTP/UPC multi-mode 10m break out cable. To be used with MMA10G-QSFP-MM-A module. |
| MMA10G-QSFP-SFP-ADP | Adaptor for converting QSFP port to SFP+. Can be used in MMA10G-EXE and IPX products that use QSFP ports. SFP+ modules sold separately. |