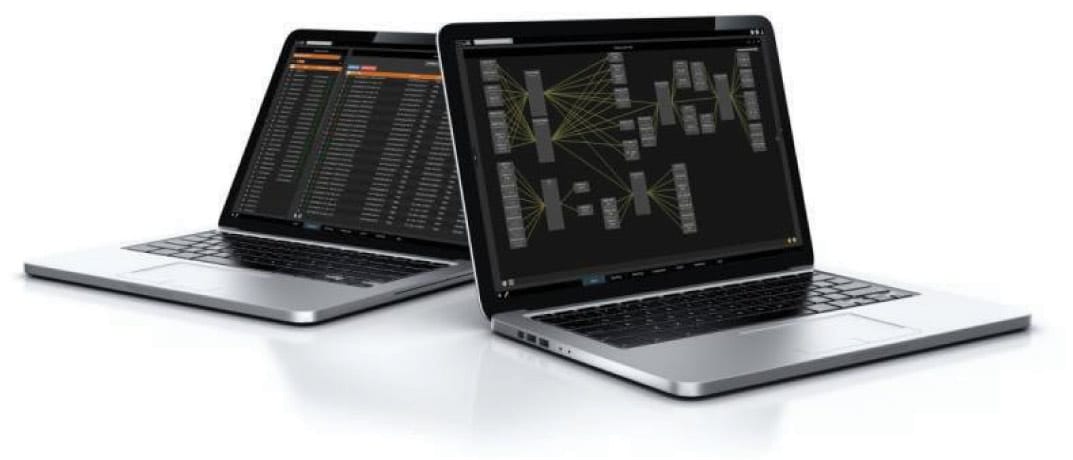 MAGNUM-AV
AV System Controller
Key Features
Orchestrate and control MMA-10G systems
Web-based access for configuration and management
Centrally manage all external client connections
Versatile options for both small and large system footprints
Active directory/LDAP integration for ACL management
MAGNUM-HW-C-CC NIAP listed and Common Criteria certified
Download the MAGNUM-AV datasheet Download the MAGNUM-HW-C-CC datasheet MAGNUM-AV is Evertz' SDVN control system and performs orchestration over the MMA–10G system allowing for unprecedented scalability. MAGNUM-AV maps the entire MMA–10G system and communicates with each element to provide the real-time reliable control required in an AV distribution system. MAGNUM-AV is the unifying control point in the MMA–10G system where all control surfaces communicate with MAGNUM to provide routing and system control.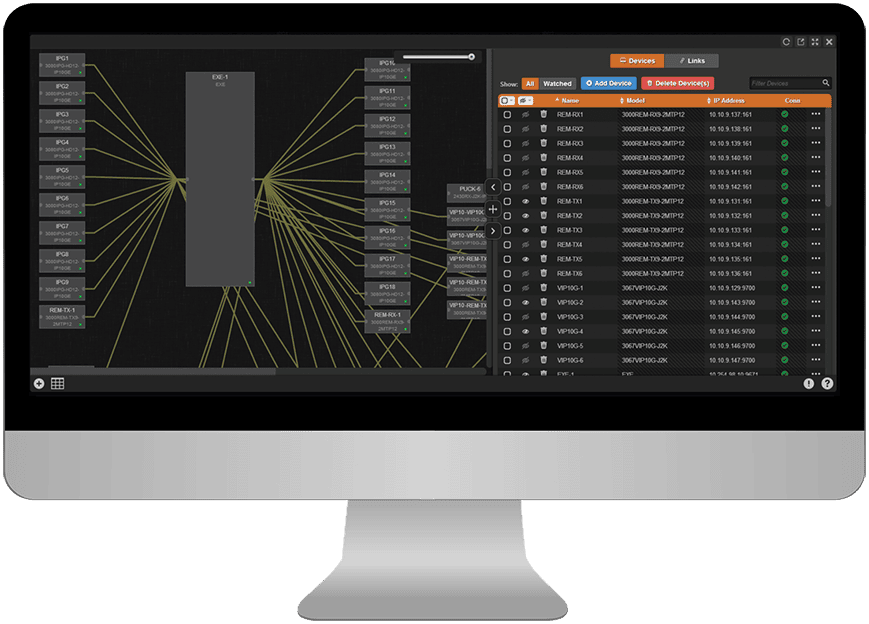 Unprecedented Scalability
The MAGNUM-AV system controller comes in three configurations depending on your specific needs. The MAGNUM-AV-PRO2 solution provides scalable system/device support for up to four MMA10G-IPX-64s or two MMA10G-IPX-128s, 256 edge devices, and 30 clients. For implementations exceeding the system/device support specifications of the MAGNUM-AV-PRO2, the MAGNUM-AV-ENT/MAGNUM-HW solution is available. Lastly, the MAGNUM-HW-C-CC solution provides all the features of the MAGNUM-AV-PRO2 solution, but with the added benefit of enhanced security functionality, built primarily for government and sensitive security applications.
Common Criteria Certified and Listed on NIAP
MAGNUM-HW-C-CC is listed on the National Information Assurance Partnership (NIAP) site. MAGNUM-HW-C-CC was evaluated in accordance with the Common Criteria Evaluation under the Collaborative Protection Profile for Network Devices Version 1.0. MAGNUM-HW-C-CC has undergone strict testing at an accredited testing laboratory using the Common Methodology for IT Security Evaluation (Version 3.01) for conformance to the Common Criteria for IT Security Evaluation (Version 3.1). For more information about NIAP and Common Criteria certification, visit the NIAP Common Criteria websites.
Seamless Re-Configuration and Resiliency
MAGNUM-AV provides targeted configuration changes with minimal impact on the overall system (i.e. no system downtime). For added resiliency, MAGNUM-AV's robust embedded Linux OS supports a multi-node auto failover.
Easy to Use Interface
MAGNUM-AV offers an elegant graphical web-based user interface for simple setup and control. MAGNUM-AV provides advanced graphical features including the display of intuitive maps to show the overall system interconnectivity.
Product Images






Specifications
MAGNUM-AV-PRO2
MAGNUM-HW
MAGNUM-HW-C-CC
LAN
Gigabit, 2 x RJ45 ports
1 x RJ45 dedicated IPMI LAN port
Gigabit, 4 x RJ45 ports
1 x RJ45 dedicated IPMI LAN port
Gigabit, 2 x RJ45 ports
1 x RJ45 dedicated IPMI LAN port
USB
2x USB rear ports
2x USB rear ports
2x USB rear ports
VGA
1x VGA port
1x VGA port
1x VGA port
LEDs
Power
Power
Hard drive activity
2 x network activity
System overheat
Universal Information (UID)
Power
Buttons
Power on/off
System reset
UID
Power on/off
System reset
UID
Power on/off
System reset
UID
System Cooling
3 x cooling fans
4 x cooling fans
1 x air shroud
3 x cooling fans
Power Consumption
250 W
600 W
250 W
Connector
IEC 60320
IEC 60320
IEC 60320
Voltage
100-240V / 50-60Hz auto-ranging
100-240V / 50-60Hz 7.5-3A
100-240V / 50-60Hz auto-ranging
Ambient Operating Temperature
50° to 95° F (10° to 35° C)
50° to 95° F (10° to 35° C)
50° to 95° F (10° to 35° C)
Non-Operating Temperature
-40° to 140° F (-40° to 60° C)
-40° to 158° F (-40° to 70° C)
-40° to 140° F (-40° to 60° C)
Relative Humidity
8% to 80% (non-condensing)
8% to 90% (non-condensing)
8% to 80% (non-condensing)
Non-Operating Relative Humidity
20% to 95% non-condensing)
5% to 95% (non-condensing)
20% to 95% non-condensing)
Dimensions (H x W x D)
1.75in x19in x 10.1in (44mm x 482mm x 257mm)
1.7in x 17.2in x 19.98in (43.18mm x 437mm x 508mm)
1.75in x19in x 10.1in (44mm x 482mm x 257mm)
Ordering Information
MAGNUM-AV-PRO2
1RU hardware plus MAGNUM software bundle (support for up to four MMA10G-IPX-64s or two MMA10G-IPX-128s, 256 edge devices)
MAGNUM-AV-ENT
MAGNUM-AV enterprise software (for implementations exceeding the system/device support specifications of the MAGNUM-AV-PRO2)
Requires MAGNUM-HW
MAGNUM-HW
1RU Enterprise class server
MAGNUM-HW-C-CC
1RU hardware plus MAGNUM software bundle (support for up to four MMA10G-IPX-64s or two MMA10G-IPX-128s, 256 edge devices) with enhanced security functionality, NIAP listed, and Common Criteria certified