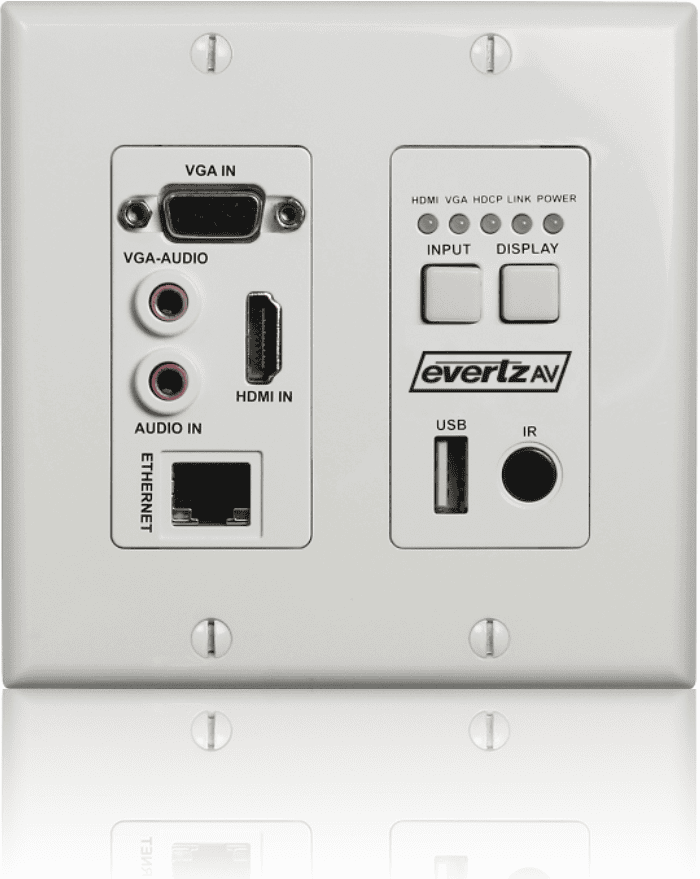 EV-TW4K-1
HDBaseT 2.0 Wall Plate Transmitter
Key Features
Provides one HDMI input, one VGA input, one analog audio input for VGA audio. and one analog audio input for pass-through to an HDBaseT receiver
Using a Cat 6/6a/7 cable, HDBaseT output is supported at distances up to 328ft (100m) at 1080p@60Hz (4:4:4 8-bit) and 4K@60Hz (4:2:0 8-bit)
Using a Cat 5e cable, HDBaseT output is supported at distances up to 328ft (100m) at 1080p@60Hz (4:4:4 8-bit) and 295ft (90m) at 4K@60Hz (4:2:0 8-bit)
Supports switching between VGA and HDMI inputs manually or automatically
Able to receive power from any HDBaseT receiver with a PSE module The EV-TW4K-1 is a wall plate switching transmitter that includes one VGA input, one HDMI input, and one HDBaseT output. It also provides two 3.5mm analog audio inputs: one for VGA audio embedding and the other for pass-through over HDBaseT.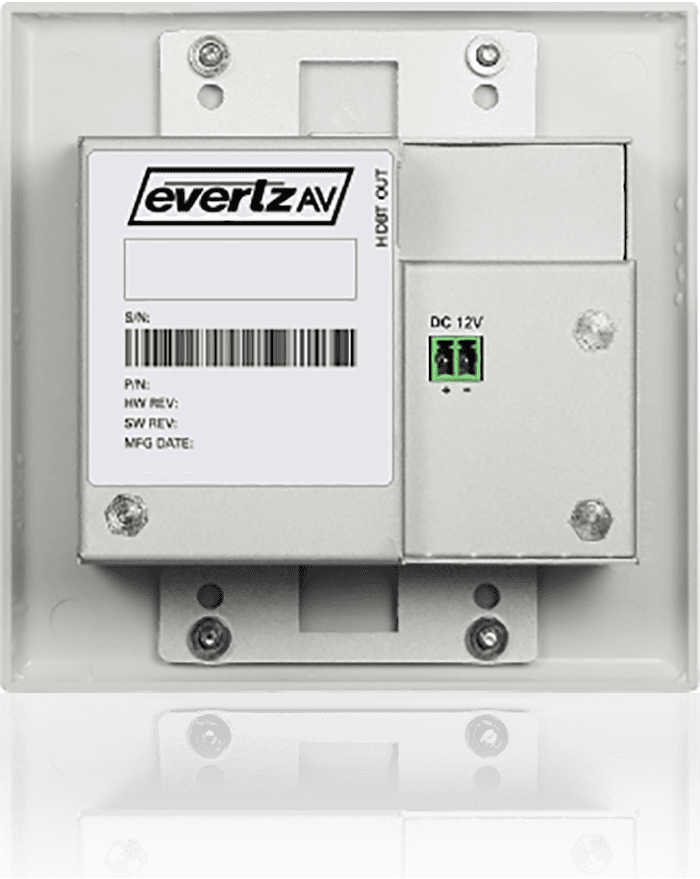 Interoperable with the EV-RS4K-2 HDMI Receiver
The EV-TW4K-1 transmitter is designed to work with an HDBaseT receiver such as EvertzAV's EV-RS4K-2 to reliably extend signals up to 328ft (100m) at 1080p@60Hz (4:4:4 8-bit) and 4K@60Hz (4:2:0 8-bit) over a Cat 6a/7 cable and up to 328ft (100m) at 1080p@60Hz (4:4:4 8-bit) using Cat 5e cables. It also provides switchable modes between a USB host and device, allowing you to control a remote server or to connect an electronic whiteboard.
Multiple Switching Modes and Power Options
The EV-TW4K-1 transmitter can be the central component of a small, automated A/V system. The EV-TW4K-1 conveniently allows switching between the VGA and HDMI sources manually or automatically. With a built-in PD module, the EV-TW4K-1 is able to receive power either by an external power supply or from a connected HDBaseT receiver with a PSE module.
Product Images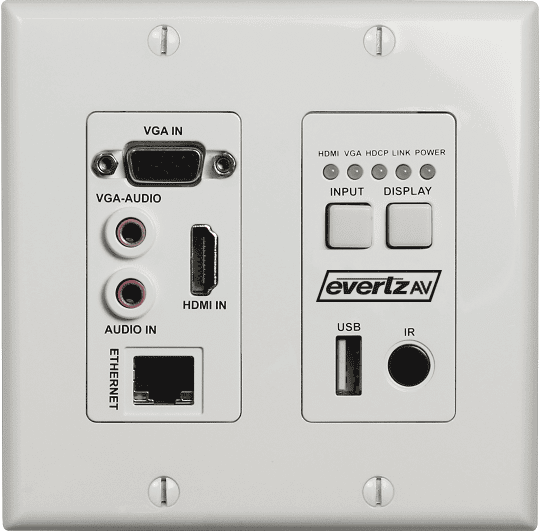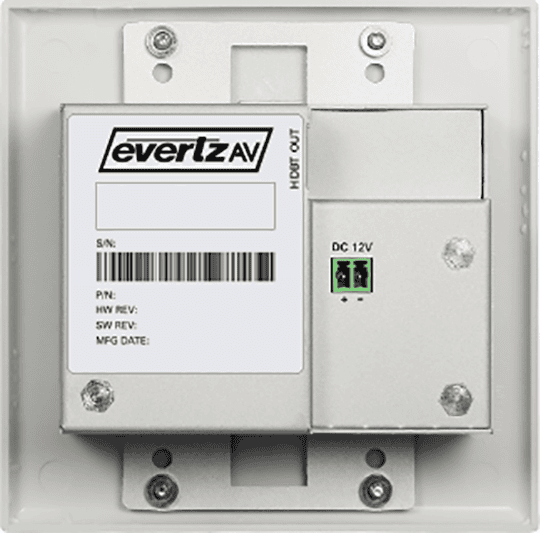 Specifications
EV-TW4K-1
Video Input
1 x VGA IN
1 x HDMI IN
Video Input Signal Type
VGA
HDMI 1.4a, HDCP 2.2/1.4
Video Input Resolution Support
VGA:
800x6001, 1024x7681, 1280x7201, 1280x8001, 1280x9601, 1280x10241, 1360x7681, 1440x9001, 1600x9001, 1600x12001, 1680x10501, 1920x10801, 1920x12001

HDMI:
800x6001, 1024x7681, 1280x7201, 1280x7681, 1280x8001, 1280x9601, 1280x10241, 1360x7681, 1366x7681, 1440x9001, 1600x9001, 1600x12001, 1680x10501, 1920x10801, 1920x12001, 2560x14401, 2560x16001, 3840x2160p1(YCbCr 4:2:0 only),2,3,4, 4096x2160p1(YCbCr 4:2:0 only),2,3,4

Note: 1= 60Hz, 2= 24Hz, 3= 25Hz, 4= 30Hz
Chroma Subsampling: RGB, YCbCr 4:4:4, YCbCr 4:2:2, YCbCr 4:2:0
Color Depth: 8 bits
Input Video Level
0.5 ~ 1.0Vp-p
Maximum Pixel Clock
297 MHz
Video Output
1 x HDBaseT
Video Output Signal Type
HDBaseT
Video Output Resolution Support
800x6001, 1024x7681, 1280x7201, 1280x7681, 1280x8001, 1280x9601, 1280x10241, 1360x7681, 1366x7681, 1440x9001, 1600x9001, 1600x12001, 1680x10501, 1920x10801, 1920x12001, 2560x14401, 2560x16001, 3840x2160p1(YCbCr 4:2:0 only),2,3,4, 4096x2160p1(YCbCr 4:2:0 only),2,3,4

Note: 1= 60Hz, 2= 24Hz, 3= 25Hz, 4= 30Hz
Chroma Subsampling: RGB, YCbCr 4:4:4, YCbCr 4:2:2, YCbCr 4:2:0
Color Depth: 8 bits
Video Impedance
100Ω
Audio Input
1 x unbalanced stereo 3.5mm mini jack, embedded with VGA input
1 x extra unbalanced stereo 3.5mm mini jack
Supported Audio Format
HDMI:
Stereo, PCM 5.1/7.1; Dolby True HD, DTS-HD Master Audio

Unbalanced Mini Jack:
Stereo
Cable Specifications
Cat 5e: 295ft (90m) for 4K@60Hz (4:2:0 8 bit)
Cat 5e: 328ft (100m) for 1080p@60 Hz (4:4:4 8 bit)
Cat 6/6a/7: 328ft (100m) for 4K@60Hz (4:2:0 8 bit) and 1080p@60 Hz (4:4:4 8 bit)
Note: EvertzAV recommends using straight-through T568B Ethernet cables
Ambient Operating Temperature
32°F to +113°F (0°C to +45°C)
Storage Temperature
-4°F to +158°F (-20°C to +70°C)
Humidity
10% to 90%, non-condensing
Power Supply
DC 12V 1A
Power Consumption
7W
ESD Protection
Human-Body Model:
±8kV (air-gap discharge) / ±4kV (contact discharge)
Device Dimension (W x H x D)
3.58in x 4.24in x 1.60in (91mm × 107.6mm × 40.6mm)

Note: With panel cover included.
Weight
0.44lbs (0.20kg)
Ordering Information
| | |
| --- | --- |
| EV-TW4K-1 | HDBaseT 2.0 wall plate transmitter with HDMI and VGA switching inputs |